Talk about results. This grassroots effort is all about achieving their mission: To feed the hungry. Latest figures from the Robin Hood Army website show 1,848,210 people served by 8,435 Robins in 13 countries – and it is all done with donations, and volunteer labor.
The founders have their sites set on growing, as the hunger problem is, sadly, a huge one in our world today. With efforts underway in India, Pakistan, Australia, Mexico, Nepal, Sri Lanka, Egypt, Indonesia, Malaysia, Philippines and several others, the RHA leaders say they are only at 1 percent of where they want to be with their efforts.
TIP: Get updates on upcoming Costa Rican Retreats & Events by joining our newsletter. Don't miss out on what's happening around you! Click here.
What is the Robin Hood Army? Every night this band of volunteers, dressed in green just like their namesake, go out into the night to fight the most widespread killer today – hunger. They use their most effective weapon – food – and make a difference in the lives of the homeless in the streets, orphanages, old age homes, and wherever those most in need can be found.
It all started when a young Indian man, Neel Ghose, learned about a volunteer program in Portugal called ReFood that collects excess food from local restaurants and distributes it among the needy. He returned home to Indian thinking, "Why can't we do this here?"  He reached out to his friend and colleague, Anand Sinha, to discuss the possibility of creating something similar. And that is how the Robin Hood Army began.
In August 2014, they started with a small group of volunteers and succeeded in feeding about 150 people. This band of dedicated and determined young people wanted to bridge the gap between the immense wastage of food that occurs each day, and the large scale hunger in their communities. Friends, colleagues, and strangers soon joined them, and the size of their army started to grow. In less than a few months it had become a nationwide volunteer movement on a mission to curb food waste and stamp out hunger. Today the Robin Hood Army numbers 1,000 volunteers, has spread out to 18 cities in India alone, and has fed more than 2.5 million people.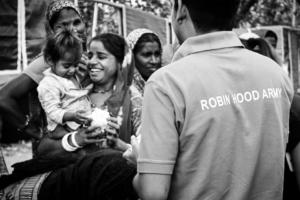 They are run in a de-centralized, grassroots fashion with small teams responsible for specific areas in their own community. The teams scout local restaurants, discuss their mission and seek collaboration. Those restaurants who are interested then donate their surplus food at the end of each day. The team also identifies the people and agencies most in need, whether that may be the homeless, orphanages or senior centers. They then organize weekly distributions. As Sinha points out "this is happening at a grassroots level, completely driven by the locals".
According to Ghose, there are no set guidelines but there are two important rules:
The first is that no one is allowed to collect funds in the name of the Robin Hood Army.  In that way there is less chance of misuse of donations. And the second rule relates to the food itself. The food must be cooked not more six hours prior to being collected, and must be distributed within two hours after collection.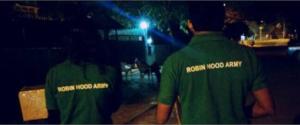 Ghose says the success of RHA is in large part due to the generosity and concern of many amazing restauranteurs. Much of the packaging of the food to be donated is provided by the restaurants themselves. Some even insist on contributing freshly cooked foods, rather simply giving away their excess food.
During the Indian wedding season – November to January – the Robin Hood teams also work with wedding caterers to collect the uneaten food at the end of the celebrations.  Weddings in India are huge. In fact, four volunteers were able to feed almost 1,000 people with the leftovers from just one wedding. There are an estimated 7 million weddings in India during the season, and yet nearly one-fifth of all prepared food is simply thrown away.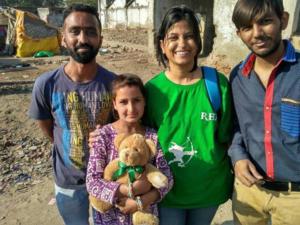 The movement has become so successful that they are now divided into many chapters in many different cities. Each chapter is run by a dedicated team of volunteers with its own chapter head. Volunteers can create their own chapters or join existing ones, and the RHA has created a DIY kit to assist those to set up their chapter from scratch.
But will this solve the hunger problem in India?
While India no longer ranks second-to-last for having the world's most undernourished children, its overall hunger status is still classified as serious. Ghose is well aware of the sheer scale of the hunger problem. The RHA is now feeding up to 5,000 people a week, but on the larger scale, that's still not addressing the overall problem. RHA has plans to expand into more regions, create partnerships with university students, and is poised to grow across the entire continent.
Sindha says, "This is an exciting time where people want to fill gaps missing in our society. Through the use of social media and the growing army of volunteers, they can channel this energy and create something even stronger out of this desire to make a difference."  The Robin Hood Army is just the beginning.