If you like wildlife and eco-adventure tours, a visit to Tortuguero National Park is a must during your time in Costa Rica. The park is one of the country's top ecotourism destinations for its animals, birds, water creatures, network of canals, lagoons, and dense rainforest. Discover all that Tortuguero has to offer by following the tips in this article.
Background
Tortuguero National Park stretches north along the Caribbean coast up to the village of Tortuguero. It protects 19,000 hectares with elevations from 0 to 390 meters (0 to 1280 feet) at the top of Cerro Tortuguero.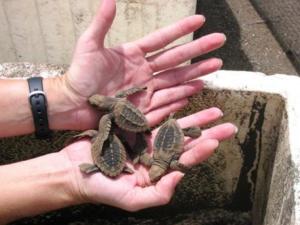 The area protected by Tortuguero National Park was an archipelago of volcanic islands until alluvial sediments from the interior mountains filled in the spaces and formed a network of marshy islands. Sand piled up where the river deposited land met the sea, and the turtle nesting beaches of Tortuguero formed.
Tortuguero was protected as a nesting sanctuary in 1963 and declared a National Park in 1970, largely due to the efforts a turtle biologist named Archie Carr who studied at the University of Florida. He formed the Caribbean Conservation Corporation in 1959 to study and protect sea turtles, and the turtle-tagging program he began at Tortuguero in 1955 continues today.
When to visit
The Green Sea and Hawksbill turtle nesting season runs from July to October with their peak in August, and the Leatherback turtles nest from February to April. It is possible to see individual turtles at any time of the year.
The weather in Tortuguero National Park should not be much of a consideration when deciding when to visit. Tortuguero is one of the rainiest areas of Costa Rica, and even in the dry season afternoon showers are common. However, the peak nesting season is in what is considered the "rainy season" throughout the rest of Costa Rica, so for this destination, it's actually the best time to go!
How to get there
There are two ways to get to Tortuguero: public transportation or plane. This site will explain how to get to the park by means of public transportation from the Juan Santamaria Airport in Alajuela or from San Jose. Here, we have provided a summary:
The first bus leaves from the Terminal Gran Caribe Bus Station at 9 or 10:30 am, and costs 1800 colones (about $3.50). This bus will take you to Cariari, which will be the last stop. At the Cariari bus station there may be tour guides offering a bus to La Pavona, take it! It costs 1000 colones (about $2.00). It will take you to the old bus station (El Rancho El Suerte) to pick up more travelers before starting the one hour trip to La Pavona. If the tour guides are not there, you can walk to the old bus station down the road and take the bus from there, but you may end up standing. The public boat taxi costs 1600 colones ($3.00) and will take you to Tortuguero. The ride will last around one hour.
Lodging
The village of Tortuguero has a small population of around 500 and is located on a relatively narrow split of land between the beach and a canal. There are multiple hostels located along the beach for the backpacker looking for a cheap, exciting place to stay. Then, just north of Tortuguero are various lodges and hotels. These are for families or couples on vacation. Here are some of the most popular:
Tortuga Lodge
Ilan Ilan Lodge
Hotel Caribbean Paradise
Tours
When you arrive at the main dock in Tortuguero, there will be a guide association's office to your left with information about all the tours offered on the island. The two biggest attractions are the turtle walks and canal tours through the national park.
Turtle walks
The main attraction of Tortuguero National Park is the turtles. Green Sea Turtles (Tortuga Verde, Chelonia mydas mydas ), Leatherback (Tortuga Baula, Dermochelys coriacea), and Hawksbill (Tortuga Carey, Eretmochelys imbricata) turtles nest on the beaches here between April and October. If you are really lucky, you might get the chance chance to see an even more spectacular event: the newly hatched turtles racing to the sea. The eggs incubate in the warm sand for 7 to 10 weeks (November-early January) before the babies hatch, dig their way to the surface, and make the long, dangerous scuttle across the beach to the surf.
You will need a guide to visit the beaches at night, as no one is allowed on the beach unaccompanied after 6:00 pm. The public beach area is sectioned off into different areas and each guide is sent to one of those areas at either 8:00 pm or 10:00 pm, depending on their lottery pick for that night.
Canal tours
A guided canoe or boat tour through the canals is the best way to see the wildlife in the jungles surrounding Tortuguero. You will be able to get close to nature and see many of the land, air, and water species for which Costa Rica is famous, including monkeys, caiman crocodile, river turtles, iguanas, and many different species of birds.  There are many amazing guides in the village who can help you spot the animals and tell you about the abundant flora and fauna. If you are the independent-type, you can also rent a canoe from one of the tour agencies that provide this service, get a map from the National Park station, and set out on your own.
Our suggestions
There are over 100 tour guides in the Tortuguero area, but we have two in mind just for you.
Victor – Tortuguero Infocenter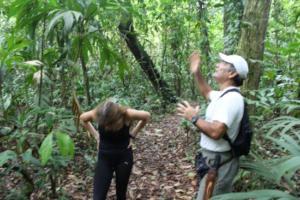 We did a canoe tour and turtle walk with Victor, a very knowledgeable and friendly tour guide. He told us a little about his life: his childhood in Guanacaste, where he learned about and developed a passion for wildlife; his university experience, where he studied to be an agricultural engineer; his work experience as a station manager in three different biological field stations: Wilson Botanical Garden, La Selva, and Sea Turtle Conservancy (STC); and where he is now. 15 years ago, he decided to retire and work as a naturalist tour guide in Tortuguero so he could share his vast knowledge with tourists to the area. He started the small travel agency called "Tortuguero Infocenter," which offers a variety of tours and tour packages for a very reasonable price.
During our canoe tour, we saw a caiman crocodile (almost tipping the boat over when we noticed it), manydifferent kinds of birds, a few monkeys, and a sloth. We also learned about all the drama that occurs in the small town of Tortuguero, so you have that to look forward to if you decide to do a tour with Victor. He also told us about his favorite places in Costa Rica and his suggestions on where and what to eat during our stay. Get the coconut rice and Caribbean chicken – it will not disappoint.
At night, Victor took us on a turtle walk. Unfortunately, we did not pick the right night… The turtles just did not want to come out. While we waited, Victor filled us in on the nesting and hatching seasons of the turtles, their lengths and weights, their migration patterns, and a lot more. He knows all of this information from his time at STC, and we were lucky to be able to learn from him. We talked and waited an hour and a half until finally the STC worker told us there was a turtle sighting at section 51. Victor had us run – yes, run – to see it. You can tell he really cares about giving his clients the best tour that he can.
Victor offers many more tours and tour packages to choose from on his website, including:
Jungle Package – $150 with transportation/$85 without transportation

2 nights lodging, morning canals tour, jungle hike, night walk

Sea Turtle Promo Package (April-October) – $150 with transportation/$85 without transportation

2 nights lodging, jungle hike, turtle night tour, morning canoe tour

One Day Adventure Tour – $100

Boat ride, jungle hike, authentic lunch, kayaking

Turtle Night Tour (March 15-October 31) – $25
Canals Tour – $25
Jungle Hike – $20
Night Walk – $25
Bike Adventure Tour – $20
Tortuguero Cultural & Chocolate Tour – $35
Tortuguero Hill Hiking Tour – coming soon!
For more information, please visit Tortuguero Infocenter's website.
Email: [email protected]
Telephone: (506) 8928-1169, (506) 2709-8055
Jessica and Roberto – Tortuguero Tours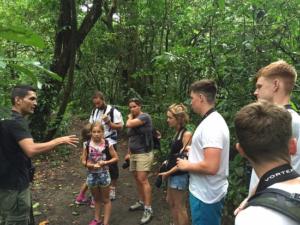 Jessica was extremely helpful in setting up our tour with Tortuguero Tours and answering any questions we had about the area. We were given the opportunity to do a day walk through Tortuguero National Park with Roberto, a local expert. When we realized how muddy the park would be because of the rain the night before, Jessica showed us to the boot rental store and even let us borrow socks that she keeps for unknowing guests. She made sure we were prepared and comfortable before sending us off into the animal-filled jungle.
With the help of the provided binoculars, and a little guidance from Roberto, we were able to see howler and spider monkeys, huge spiders, caterpillars, frogs, lizards, macaws, and a variety of plant-life on the tour. It was magical. Roberto knew so much about the history of the area, the animals, and the plants – we couldn't point at something in the park that he wasn't able to name. We could tell that he has been doing this for a long time, because he knew exactly where to look and what to look for. He really wants his clients to see as much as they can during their short time in Tortuguero, which explains why the tour lasted 2 hours!
Tortuguero Tours also offers:
Canoe Tour – $20
Kayak Tour – $35
Night Walk – $20
Turtle Tour – $20
Transportation packages from Moin/La Fortuna
There's so much to do and see in Tortuguero that it's difficult to plan everything out, especially if you aren't there for a long period of time. That's why we've laid out this simple guide. We hope that it is useful to you on your trip to Tortuguero, and that you have an amazing time while you're there!
Ecotourism allows for us to gain a better understanding of the nature around us, to appreciate Mother Nature. It teaches us to conserve and protect the environment, so that future generations can be ecotourists – just like us.
"That which we allow to exist, to flourish freely according to its own rhythms, is superior to anything our little hands create." – William Powers