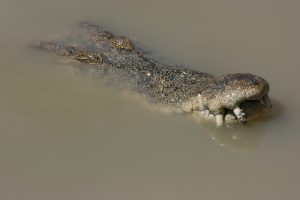 The Costa Rica News (TCRN) – A crocodile that caused concern among traders and tourists from Manuel Antonio National Park was relocated by officials of the National System of Conservation Areas (Sinac) after several reports of the animal was seen in social networks.
Boris Marchegiani, president of the Chamber of Tourism for Manuel Antonio, says the reports they received via social media allowed the rapid action of the authorities to relocate the alligator. However, another three and a half meters croc is still not caught and they hope that in the coming hours relocation can be achieved.
TIP: Get our latest content by joining our newsletter. Don't miss out on news that matter in Costa Rica. Click here.
"We are waiting for the second one to come out at night so we can grab it and bring it to where it needs to go, probably the Tarcoles River," said Marchegiani.
According to the leader, the number of visitors at this time caused them enough concern and that is why they managed such quick participation from officials at Sinac.
There have also been recent reports of the presence of crocodiles in Puntarenas and Tamarindo, in the latter place two Spanish tourists were attacked while they surfed.
The Costa Rica News (TCRN)
San Jose Costa Rica