The Osa Peninsula is a family friendly location for those travelling with kids! This peninsula is jam-packed with a wide variety of activities that are safe for children and visitors of all ages can enjoy. Taking curious young ones for a visit to experience nature in one of the most bio-diverse areas in the planet will surely prove to be educational, explorative, captivating, and fun! Here is a list of adventures that are family friendly, and the whole family can enjoy!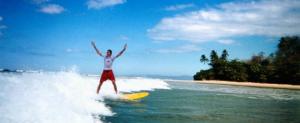 Zip-line/Aerial Adventures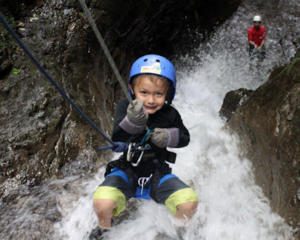 Soaring through forest canopies on zip-line and aerial tours provides an instant jolt of adrenaline for any age who seeks this experience. These adventuresome activities provide a new height for kids to view nature and experience the Osa Peninsula.
Horseback Riding
Beach or trail riding give kids the opportunity to travel through nature, as well as connect firsthand with an animal underneath them. These giant furry creatures are calm, safe, and ready for sunrise or sunset companionship.
Dolphin and whale watching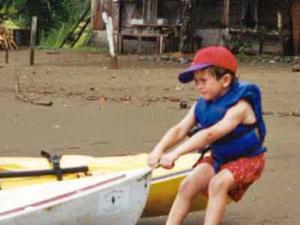 The Osa Peninsula is the perfect place to spot dolphins and whales out in their natural habitat. For many children, the only chance to see dolphins and whales may be in a zoo! The steady bump of the boat, first glimpse of a fin, and the majesty of these sea creatures will leave a lasting impact on the lives of any who have the opportunity to see them!
Kayaking and Canoeing
Kayaking and canoeing at times can be the only way to explore up the tranquil rivers of the Osa Peninsula. These activities are definitely family friendly, and can help transport everyone to a hidden waterfall to cool off from the heat of the day.
River rafting/tubing
River rafting and tubing trips on the Peninsula are well organized and jam-packed with adventure! Kids as young as 6 or 7 years old can take part on these trips, and glide down class 1 or 2 rapids. These excursions provide a full day of fun in the sun, time for snacks, and a new way to see the beauty that Costa Rica has to offer!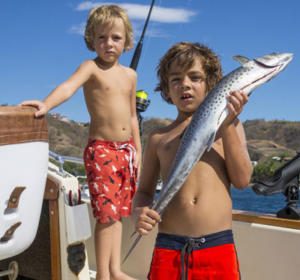 Written by:  Sarah Elena https://therussianwanderer.wordpress.com