Is that time of the year again, where the Oscars ceremony can take actors, producers, and studios to the next level. We still remember when last year Leonardo Di Caprio finally got his prize after so many attempts. Some may not be movie fans but at that night everybody becomes a movie critic and films get more attention. It's a night to remember as it always has for the last 89 years.
While most looks are in La La Land or Hacksaw Ridge or Manchester at the Sea, there's an important Costa Rican presence as well. The effort belongs to the director Hernán Jiménez and the movie's name is 'About Us'. It portrays a young couple that tries rebuilding their relationship back together.
TIP: Get our latest content by joining our newsletter. Don't miss out on news that matter in Costa Rica. Click here.
The movie finished filming in the first quarter of 2016. In January the film got a nomination for Best Foreign Language. 'About us' is the 5th Costa Rican movie that seeks the prize since 2005. Back then, 'Caribe' got a nomination in the same category.
About the film
'About us' is a romantic comedy that shows typical couple problems and their attempt to solve it. In the way, a third member is added into the mix, this stirs up Diego and Sofía's relationship even more. Hernán Jiménez – director and actor – plays Diego, an overprotective boyfriend that thinks his girl is cheating. Noelia Castaño is Sofía, a carefree person that accepts Diego's faults yet she still loves him.
Throughout the movie, we see Costa Rica's extraordinary landscapes, it's an invitation to visit the natural paradise. A beach road trip happens in Santa Teresa, a place that any tourist should see and live for themselves. The film's story is basic, Jiménez's and Castaño's performances are what hold the movie together. All of this is decorated with a beautiful cinematography that shows just how lucky Costa Ricans are.
The critic's word on 'About Us'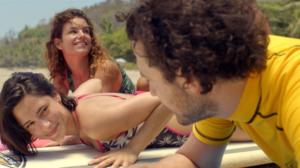 William Venegas is a writer and a movie critic, he says that the film's complexity lies in its emotions. He adds that the characters are likable and people can relate to them. Venegas comments that fourth wall is broken bringing the spectator into the movie's experience and the characters feelings.
The movie critic states that Diego's solution for getting their relationship back on track is something everyone with experience knows that doesn't work. The movie knows about this and sends a warning for younger couples and is relatable with older ones. The turnaround on the film happens at the beach where Sofía and Diego go to spark their flame once again.
Dialogues on the film feel like real life situations and at times they're smart. The film tone varies from a comedy to solving serious problems that relationships have on a daily basis. Venegas says that it's an intelligent effort from Jiménez, he knows how to focus the film's emotions, whether is romantic, comedic or dramatic moments.
Venegas praises the postproduction work on the film and finishes by recommending the Costa Rican movie, not for the fact that it's a local product, but that it's a good movie overall, Hernán Jiménez is a director to keep an eye on because his work stands out.
People's reception on the movie
The film debuted in May 2016 with general acceptance from Costa Ricans. The movie debunked 'El lugar más feliz' as the second top-selling Costa Rican film in debut week. The movie's success thrilled Jiménez. "We competed against the soccer game and Captain America's Civil War and still got these numbers", he added. Jiménez' satisfaction comes also because the film was his top grossing film yet.
The movie sold over 30.000 tickets in its debut week, it didn't beat Maikol Yordan's 56.000 but it sure makes it a film to watch. Overall, the film takes our hearts into Costa Rican culture. We learn about what their people are about and their basic values and morale, without mentioning that it's a wonderful advertisement for the nation.