Owing to the process of consultation that seeks to reduce deforestation and degradation of rainforests, also known as the REDD+ Strategy, the Ministry of the Environment and Energy looks to foment the inclusion of the aboriginal communities in this program, since they have to participate in forums and conferences on the global warming.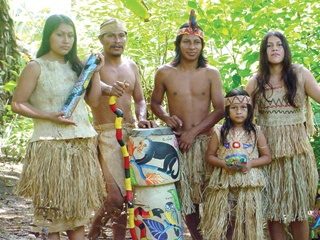 The National Forestry Financing Fund has provided 3,275.533 colones to the aboriginal communities committed to taking care of the forests. Thanks to this contribution, these communitities have managed to plant 170,100 trees in their territories that cover 41.258 hectares.
"Today, the protected areas of the country cover large extensions of lands, but we haven't been able to protect such areas properly in spite of all our effort. That's why it is important that the aboriginal communities collaborate with us in this process of protecting the natural resources, which are necessary for the development of all the Costa Rican communities" – said Edgar Gutierrez, Minister of Environment and Energy.
A program called PSA is the main income for these communities. However, experts said that such program would be more beneficial if its world view were taken into consideration. For this reason, Costa Rican natives proposed to have their own PSA based on the current scheme and the reality of their standard of living.