The Waterfall Villas encompass the ultimate feeling of peace and serenity when staying on the beautiful complex. Owners Fateh and Franco have a property in Dominical that essentially consists of breathtaking waterfalls and lush forest. Their conservation efforts and amazing property combine to create a small paradise with private and cozy villas within the Baru Rainforest.
Fateh Kaur Bolivar is a beautiful and intriguing woman who decided to part with her stress-filled life as CEO of a successful software business in Florida. She sold everything and moved to Dominical where she is a certified Kundalini Yoga Teacher and extremely knowledgeable of healthy, vegan eating. She wanted a new life where she could preserve the rain forest while creating an environment to share and heal.
TIP: Get updates on upcoming Costa Rican Retreats & Events by joining our newsletter. Don't miss out on what's happening around you! Click here.
The Waterfall Villas, built completely from scratch, is inspired by Balinese traditions. There are three levels of villas that represent the three major gods that are inspired from the temples in the Hindu religion. The first level is Brahma, the creator, then Shivas, the destroyer, and lastly Vishnu, the sustainer who keeps us alive. With only 6 rooms in total, The Waterfall Villas integrates a feeling of exclusion and peace.
The property that the villas sit on is an excursion in itself. Constantly surrounded by the 15 acres of rainforest and the peaceful sounds of the running waterfall, there are no shortages of spots where yoga and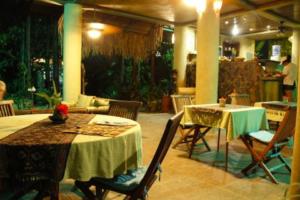 meditation can be practiced. Fateh and Franco offer both private and group retreats for a complete yoga experience. Group retreats are announced on her website, usually coinciding with the new moon cycle. Private retreats and more individualized and are customized based on personal requests. Fateh has the ability to bring in several types of healers around the area, including those who specialize in everything from soul revival, to acupuncture, to straightening practices. Fateh also sits down with visitors to understand culinary requests and to see the specific needs of each individual. She will personalize your experience so you leave The Waterfall Villas refreshed and happy.
While The Waterfall Villas is the perfect location to take a yoga retreat and to spend time meditating, this beautiful setting is perfect for honeymoons and those looking for a relaxing, exclusive getaway as well. Fateh and Franco insure that each visit is completely personalized and customized to your needs. Each visit is completely unique and created to meet the interests of those visiting this beautiful complex.
Contact The Waterfall Villas
https://www.facebook.com/waterfall.villas?fref=ts
Click here for rates at The Waterfall Villas!