The best children's books appeal to children's inborn sense of wonder, their ability to imagine our world in ways that it both already is and could nearly be. Guiana-born author Benrali's The Turtle's Dream and Keys is a literary journey for children that explores exactly that same sense of wonder by following Jupiter, a turtle awakening from a long winter's dream to a vibrant natural world. The protagonist is an Eastern Box Turtle of North America. The box turtle's intricate, colorful shell was Benrali's inspiration for the work.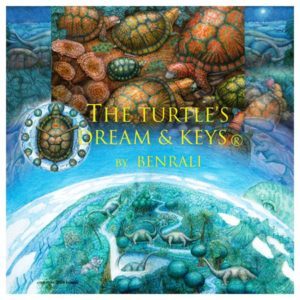 Benrali describes the inner life of Jupiter, the life of a box turtle's mind. As readers, we follow Jupiter's thoughts as he dreams of his ancestors, nameless giants that inhabit primeval forests. As we travel through these distant places, we join Jupiter on a voyage that envisions the immensity of evolutionary history while indulging ancient legends that explain our presence on Earth. Jupiter ponders the other reptilian creatures that belong to his lineage while also contemplating others, the insects, birds and mammals, with which he may share an even more archaic kinship. The Turtle's Dream and Keys is a grand tour of life on Earth, and this is precisely why it appeals to children. It nourishes their hunger for learning and curiosity for the world.
TIP: Get our latest content by joining our newsletter. Don't miss out on news that matter in Costa Rica. Click here.
The book's illustrations complement this mission. Benrali makes great use of each page to deliver captivating scenes that will delight the eager eyes of children and adults alike. On one page we see Jupiter imagining himself spinning through time while his ancestral brethren, reptiles, mammals, and birds, look on. On another, we see the orange plating of his shell morphing into monarch butterflies, as if reminding us that all of nature, no matter how improbable it may seem, is one. Every image reinforces this motif, the importance of valuing nature and appreciating its beauty.
The themes present in The Turtle's Dream and Keys build upon Benrali's earlier work, Manni: From a World Beyond Stars. The story follows the adventures of a young sea turtle and the many perils he faces while trying to reach the sea. Manni shares the same strengths as Benrali's newer work: beautiful illustrations that teach children the importance of protecting and loving nature.
While ideal for parents who hope to foster in their children a respect, admiration, and fascination for the natural world, both The Turtle's Dream and Keys and Manni will also not disappoint those adults who have managed to protect and nurture their own sense of wonder.
By Frank Izaguirre