Costa Rica makes the 5 Amazing Family Vacation Destinations List.
When you are ready to get away with your family for an extended weekend or a weeklong vacation, there are many exciting destinations that provide a family-friendly environment for you to choose from. Whether you enjoy visiting museums and historic landmarks, relaxing on a sunny beach or spending time at a world-class amusement park, there is plenty to provide your family with a great vacation. Here are just five examples of getaway destinations for you to choose.
New York City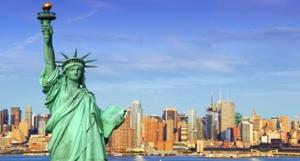 If you have never been to New York City with your family, now is the time to go. The city is filled with great attractions for families as well as several New York City real estate properties that can provide convenient locations to stay during your trip. The Doubletree Suites by Hilton offers a very family-friendly environment where you can relax in a comfortable suite while being in the center of all the New York City attractions and activities. The Hilton Resort is located in the center of Manhattan Island on the West Side, giving you quick access to Central Park and many nearby attractions like Times Square and the New York Public Library.
Costa Rica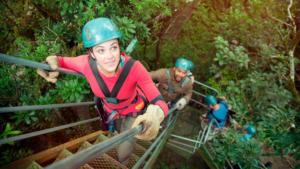 For a South American getaway, visit Costa Rica and enjoy a Spanish culture you will never forget. Whether tasting the various unique cuisine, or lounging on the blue coastline. Costa Rica could be your next family vacation. Costa Rica is known as one of the most visited places in the Central American region. Several national parks and breathtaking views allows for exciting family fun. In addition, one of the largest attractions in Costa Rica is the Poas Volcano crater, allowing visitors to stand right along its edge, looking down on the 950 feet below.
Vermont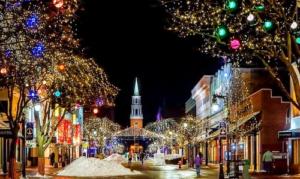 If you're looking for a place to get away for a while and reconnect with your family, The Tyler Place Family Resort in High gate Springs, Vermont is the place to go. This amazing family resort will give you the chance to get back to nature with your family and just enjoy being together. The Resort includes many great activities like fishing, archery, canoeing, nature hikes, zip lines and much more. There are also special activities just for the adults to get away and relax without the kids for a bit while staff members provide babysitting services for your time together. When you are looking for a good meal, the resort offers great country home-cooked meals right down to the chocolate chip cookies. When you want something a bit more intimate, they will even fix a picnic basket for your family outing.
Virgin Islands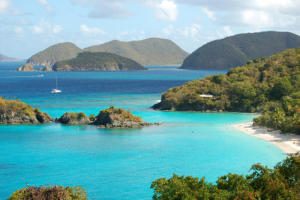 When you really want to get away for a while to a place with sunny beaches and crystal blue waters, head for The Buccaneer Family Resort on St.Croix in the Virgin Islands. The resort is designed for families to enjoy the beauty of the Caribbean environment and includes 340 tropical acres of water sports, golf, tennis, basketball, volleyball and even a special Kid's Camp where experienced staff members will provide organized activities for your children while you relax on the beach or take in some time with the adults. The resort also includes dining venues like The Terrace Bar, The Mermaid, The Grotto Grill and The Brass Parrot as well as many restaurants nearby that include Rowdy Joe's, the Beach Side Cafe, the Pickled Greek and many more. When you are looking for a great Caribbean vacation with your family, The Buccaneer Resort is the place to go.
Hawaii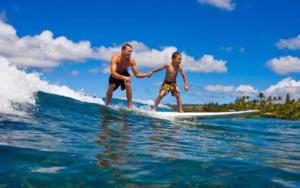 Experience the world of Disney in Hawaii when you check into the Aulani Hawaii Resort. Your children will enjoy the Disney-themed environment of the resort while you get to enjoy the fact that you are actually on the beach in Hawaii. The resort includes very luxurious suites with whirlpool tubs or deep soaking tubs and private porches or balconies with special Disney touches throughout the room. There are activities for every age group at the resort and Aunty's Beach House is a special kid's club where guests of the resort can take part in activities provided by certified child-care professionals while the adults relax or enjoy any number of activities available to them. When you are ready for a great meal check out the restaurants at the resort like the Makahiki that offers fresh delicacies and local fare from the islands or Off The Hook, where you can get Hawaiian inspired meals.
Written by Erik Braunitzer, a writer for Douglas Elliman, brokers for NYC, Long Island and Hamptons Real Estate.
The Costa Rica News (TCRN)
San Jose Costa Rica