Pura Vida Gardens Estate, Costa Rica
Imagine owning your own private rainforest in one of the most bio diverse places on the planet, greeted every morning with views of endless tropical coastline, scarlet macaws, toucans and monkeys right in your own rain forest garden. [More description below]
Central Pacific Costa Rica Real Estate Income Property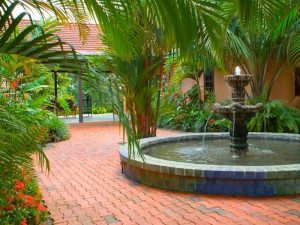 Property:
 
60 Acres
Garage:
 
4
Bathrooms
 
4
Bedrooms
 
3
Sale Price:
 
$2,900,000 USD
Property Type:
 
Estate/Income Property
 
 
[nggallery id=66]
(Click to enlarge images)
Pura Vida Gardens & Waterfalls Estate
Pura Vida Gardens & Waterfalls Estate is one of the most unique and stunning properties currently on the Costa Rica real estate market.
Located on the Central Pacific coast of Costa Rica, in one of the busiest tourist area in all Central America, approximately 10,000 visitors per year come see these amazing gardens, flora, fauna, waterfalls and coast line landscapes.
This jewel encompasses 60 acres of magnificent mountain top, tropical beauty with pristine tropical forests, 3 waterfalls and 2 fresh water streams that includes one of the tallest Waterfalls in Costa Rica, a favorite tourist spot called Bijagual Waterfall.
The flora and fauna of this property is considered the richest in Costa Rica, with Carara National Park on one side and a huge private preserve on the other. This private rainforest has panoramic views showing miles of coastline, including the Nicoya peninsula and the surrounding islands.
The comfortable, tailored walkways and trails in the Gardens wander along a river and to mountain crests with breathtaking views everywhere you look.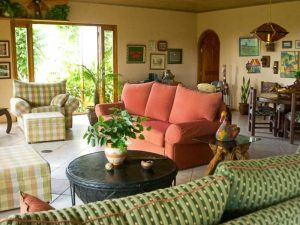 The estates residence is 334 mts2 has flowing open spaces, huge veranda and spacious living areas. The home has 2 other building and a separate staff house, which surround Spanish style courtyard with a luxurious fountain in the center. Its design and space make it perfect your family as well has having ample space to host large gatherings.
The main home has three completely private bedrooms, four full bathrooms, providing plenty of space and privacy for family and guests. The bedrooms, have breathtaking views from all rooms and are large open and airy.
The modern, commercial kitchen is a chef's dream, spacious and functional, ceramics and modern appliances, perfect for family meals, or for serving larger events.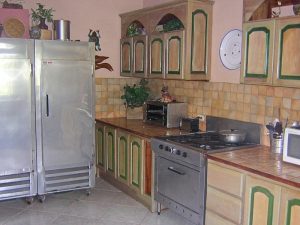 Another part of the estate has 2 separate buildings with complete kitchen and bathrooms. One of these buildings overlooks the tallest waterfall in Costa Rica, Bijagual Waterfall.
Lush tropical gardens invites Scarlet macaws that visit daily as well as troops of monkeys making their daily rounds, grabbing fruit from the trees as they pass through.
Relax on your terrace where you will enjoy so many species of birds that only the "the most bio-diverse place on earth" as National Geographic said can give.
This is a property with unequaled beauty, privacy, peace and tranquility. It truly must be seen to be believed. You can see more on their web site Pura Vida Grdens
This estate has been nominated for the 2013 TCRN Feature Property Awards.
Category: Costa Rica Real Estate >> Central Pacific >> Commercial Property
Contact us for more information on this Costa Rica Luxury Estate and one of our Experts will be glad to assist you.
[gravityform id="1″]
The Costa Rica News (TCRN)
San Jose Costa Rica