Zeeland Christian School continues to spread its wings and its influence beyond the confines of its building on Central Avenue.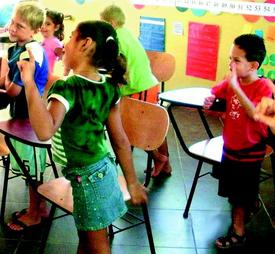 For years, the school has partnered with Grace Christian School in the Philippines, and now Zeeland Christian has thrown its support behind a grass roots effort to launch a Christian school on the Pacific coast of Costa Rica.
A small school in the coastal community of Quepos is using Zeeland Christian's El Puente Spanish Immersion curriculum with the hopes of building a brighter future for the natives of the tourist region about 115 miles south of the capital city of San Jose.
"In this area on the coast there's another private school, but there is not a solid Christian education," said Anna Slenk, 25, a 2002 Holland Christian graduate who is helping launch the school and is also doing some teaching. "One thing that we see as setting us apart is being able to provide that Christ-centered education and teaching those values."
Slenk was invited to Costa Rica by Scott and Nicki Chandler, West Michigan natives who are partners in a condominium development in the Quepos area. They asked Slenk to help with the education of their four children when they moved to Costa Rica two and half years.
At first, the Chandlers enrolled their students in local schools, but were not impressed.
"We had our kids in a couple of different schools here, and they teach them how to read and write, but there is no deductive reasoning or anything like that," Scott Chandler said. "They just go through the basics. They are not thinking or stretching (their minds)."
In the summer of 2008, the Chandlers returned to West Michigan for a visit, which turned into an extended stay. That fall, they enrolled their children in Zeeland Christian because of its El Puente program.
A few months later, the Chandlers returned to Costa Rica, but were so impressed with the Zeeland Christian curriculum that they wanted their children to continue using it.
Slenk approached Zeeland Christian Principal Bill Van Dyk and ZCS's El Puente Coordinator Stacey Vanden Bosch about using the school's curriculum in Costa Rica and they loved the idea.
"I think it's a natural fit because our Spanish Immersion program has grown," Vanden Bosch said. "Basically, it's taking a lot of Zeeland Christian School's curriculum and using a very specific language acquisition model to get the kids well educated in their native language of Spanish and their second language of English."
In February, the school started out on a very small scale. The student body included the four Chandler children and one native student. This year, there are nine students — four Chandlers and five natives.
The school is run out an extra room at the Chandler's home, but is looking for larger, permanent quarters. It is also seeking accreditation from the Costa Rica Ministry of Education. Until the school receives the accreditation and has its own space, it will lack credibility in the eyes of many natives.
"There is a lot of interest from the local families in our project, but a lot of them are waiting for (accreditation). That means their education is recognized by the state if they would need to transfer schools or go on to high school," Slenk said. "We are just in the beginning stages. We really need to get our building and get accredited before we can start moving forward."
Both Zeeland Christian and El Puente in Costa Rica are looking forward to great things in the future as the school grows. Zeeland Christian has organized trips to the rain forest in Costa Rica for many years and is open to strengthening its connection to the Central American country.
"Our goal is that one day our (ZCS) students can go to the school (in Costa Rica) for a study abroad experience and their students can come to Zeeland," Vanden Bosch said. "This can be kind of an exchange thing."
Last week, Quality Car Wash in Holland hosted a fundraiser for the El Puente School in Quepos and raised about $7,000. That is a good step in the right direction as the school begins to build its future.
"We've been praying through this and now we are just giving it back to God and he has the power to do more than we can ever imagine," Slenk said. "For me, being from West Michigan and then moving to Costa Rica, I never imagined my two worlds would connect like this. It's been amazing to see."