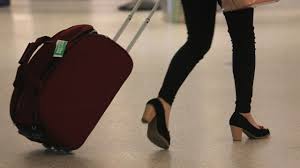 In my early twenties, I built a very nice pit for myself. You might be able to relate. It was a pit that I had dreamt my whole life of getting myself into… often referred to as the American Dream.
Bills for the mortgage on the house I most certainly needed, the car loan to get me back and forth to work, the cell phone I couldn't live without—all were parts of that "dream."
However, once I made my sweet, cozy hole and sat myself down on it, I didn't like it.
I felt the grip of society holding me tightly in place, and I knew I was trapped.
I grew up being told this was what I wanted, by the media, my peers, um…by the media.
The "American Dream" for this girl was a nice house, a handsome husband, a big rock on my finger, an attractive wardrobe, a new car, two matching dogs. Now that I had these things,
I could see that I had just gotten myself into a heavy mess of debt, an unhappy marriage, and a house full of must-haves that I didn't really need it.
Then I realized what I did need.
I needed to be free.
When my boss wasn't looking, I drooled over travel destinations on my computer. I imagined myself living in a white villa in Greece, and owning a goat.
I yearned to know what it was like to rest my eyes in any city in Europe.
However, while planning my escape, I had a sneaking suspicion I was shackled to that very chair, in that very office (you know the one). This just couldn't be meant for me, though. I had to escape.
I wanted—no, needed—to see the world so bad, it hurt.
Instead of rolling over in my dark pit of despair, which many call "life," I made some huge changes to save my soul. I got a divorce, quit my job, and started fresh. I went back to college and chose to study abroad in France (hell yeah!).
After returning from a summer near the Mediterranean in the sunny town of Aix-en-Provence, I remarried someone like-minded (crazy-minded?).
We both wanted to actually LIVE in the places people take their yearly two-week vacations to visit.
Why did we both feel so strongly that the American Dream was someone else's dream—not ours?
Why did we feel that the life available to us, in the United States, just wasn't for us?
Maybe we both had a few screws loose; maybe we both had a hunch that this wasn't all life was cracked up to be.
Some friends and family probably thought we were a tad irresponsible when we had a baby, but decided to start an online business and sell our house.
Determined to give our children a better life, full of real exploration and exposure to other cultures, we followed our gut.
This put us on a reverse-path than what society had recommended. Did we doubt our decision to do things differently? Never.
It took a few years to launch ourselves into a whole different way of living, but we did it. We wrote down the countries we wanted to live in: Germany, Norway, Costa Rica, Chile, the Czech Republic, Budapest, France, Holland, Croatia, Italy.
We took off.
Three months deep into our journey around the world, living in Costa Rica, it just felt so right. My toddler would ask me for his milk and cookies in Spanish.
We enjoyed the perfect climate year-round. There was no looking back. The America we left has no pull on our heartstrings.
We were finally free, and always will be.
She's a mother, blogger, and world traveler. Now Emily R-P Shea is the first columnist of our new section "The Great Escape" featuring articles written by a small handful of US ex-pats who have some amazing stories to tell.
From why they chose to live in Costa Rica to how to raise a more eco-friendly baby, The Great Escape will be a great reference as well as fascinating entertainment for all travelers who find themselves in paradise.