Despite the fame Costa Rica gained at the beginning of this year for going 100+ days on completely renewable energy, Honduras is giving ticos a run for their money.
Honduras is now poised to overtake Mexico as the second-largest solar market in Latin America after Chile.
According to GreenTechMedia, a leading provider of green market research:
[quote_center]"Regulatory clarity and incentives for investors have set [Honduras] apart from its neighbors… where a lack of clear rules and price stability are hindering solar development." [/quote_center]
And they're just getting started. The first large-scale photovoltaic project in Honduras only recently premiered this past May. Since then the country has begun an incentive plan, offering 20-year contracts with the state utility, Empresa Nacional de Energia Electrica (ENEE), to foreign investors.
To better understand Honduras's potential, it's worth taking a look at what ENEE sees as their three main responsibilities. In addition to protecting the environment through the use of renewable energy, ENEE also places a heavy emphasis on social welfare and education.
Social Welfare
In a national analysis of natural resources, ENEE found that the many watersheds were in desperate states of deterioration. Furthermore, it was not only the natural environment that was being affected, but the surrounding social communities as well. Therefore, ENEE began the Watershed Management Unit to benefit communities surround resource basins where hydroelectric plants have been placed.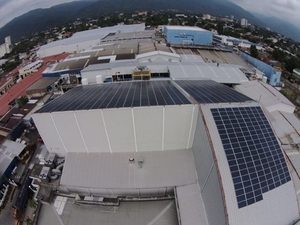 As though that wasn't enough, ENEE has made sure the the type of aid being provided addresses the communities' actual needs — rather than just bombarding them with financial or material support. Programs are integrative and engaging; they seek to encourage individuals to take an active role in their social and environmental well-being.
Some examples of programs that have been implemented include: environmentally-themed libraries, medical brigades, bilingual books donations, eco-stoves, rehabilitation camps from recovered properties, grants for low-income youth and many more.
Workers for ENEE also receive access to the Social Benefit Fund for Permanent Employees.
Education
Several educationally-focused programs have already been mentioned as part of ENEE's social welfare outreach. Nevertheless, the company is equally as interested in making sure their own employees are well-trained and up-to-date.
The Centro Nacional de Capacitación Técnica (CENACAPT) is another program pioneered by ENEE. Their goal is to adequately train both technical and administrative employees of ENEE to be responsible in their positions. CENACAPT organizes training sessions according to the business and social needs of the job as well as to recent innovations in a given area.
Additionally, workshops are given by this department to train individuals from various communities around the country.
The Costa Rica Comparison
The Costa Rican equivalent of ENEE is MINAE, the Ministerio de Ambiente y Energía. Environmentally speaking, MINAE has four areas of action:
The Green Agenda — focused on conservation and protection of land biodiversity, including forest management and other sustainable practices
The Blue Agenda — focused on conservation and protection of water life and quality
The Coffee Agenda — a joint effort of the Technical Secretary of National Environment (SEVEN), the Directorate of Environmental Quality Management (DIGECA), the Head Office of Climate Change (DCC) and the Directorate of Geology and Mines to prevent pollution, manage quality and promote sustainable practices in coffee production.
The Energy Agenda — a joint effort of the Energy Division, the Directorate General of Hydrocarbons and the Department of Transportation and Fuels Marketing to respond to the two major challenges of the day: climate change and oil depletion.
Costa Rica is aware of its dependency on imported oil and coal use. Thus it set a goal to reach carbon neutrality by 2012, and on a macro-level, the country has been largely successful.[quote_box_right]Costa Rica has a Dirty Little Secret. Do you know what it is?[/quote_box_right]
Nevertheless, it remains to be seen whether the country is engaging the general population the way Honduras has been. So far it seems businesses have been the target for Costa Rican environmental reform. Other national organizations have tried to take on the issue of public engagement, but it's been an uphill climb.
Furthermore, while ENEE offers both clarity and international incentives, the Costa Rican energy system has been filled with clouds. Many locals are found asking for more transparency.
Learning from Each Other
Still, Costa Rica does indeed have some promising programs in place for making the switch to renewable energy, and of course Honduras still can do more. The important idea is that countries such as these engage in continuing development through conversation with the rest of the world.
One opportunity for such conversation will be happening this November at the Future of Solar Power in Central America and Colombia Conference in Panama. More information about this conference available at: Solar Energy Conference coming to Central America