Degradation of the product lasts 18 months; plastic lasts 20 years or more. Researchers consider using new material to make new products.
Plastic used in the country's production of bananas would reach a length of approximately thirty-nine (39) times around Costa Rica, a territory of about 51,100 Km2.
That material may last twenty (20) and even a thousand (1,000) years to degrade completely. Therefore, three (3) university students decided to research and find a better alternative: a material five (5) times more resistant than current plastic bags, capable of disintegrating itself in eighteen (18) months, equipped with a pesticide releasing system.
The solution was developed by Daniela Palomo, José Eduardo Castro and Sebastián Hernández, Chemistry students at the Universidad de Costa Rica and it won the Fair of Entrepreneurship, Development and Innovation, held at that educational center right at the end of 2016.
A Challenge
After evaluating several ideas, they decided to work on cellulose acetate, a modified product obtained out of the cellulose extracted from plants, especially from yucca starch and chitin out of the exoskeleton of shrimps. Among its main characteristics are the abilities to avoid burns and the acceleration of the crop ripping process. Likewise, the plastic bag contains a pesticide to be gradually dosed.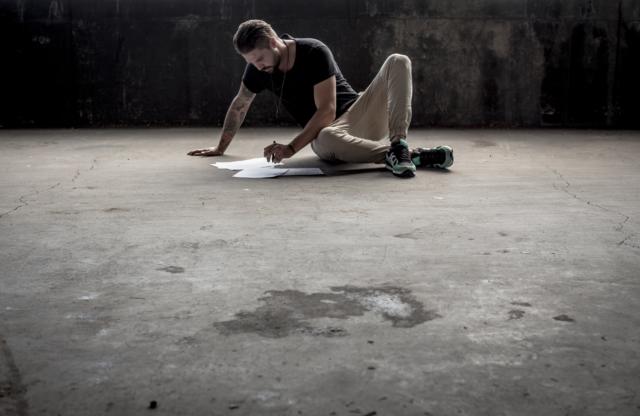 "We started thinking how to use the cellulose acetate as a polymer base (plastic), as well as what kind of additives can be added", Daniela Palomo remembered.
The whole process to go through until the final formulation which produces the Bantú plastic bags -as they have been called- lasted about three weeks.
"Bananas represent the thirty-five point four percent (35.4%) of the country's agricultural exportations. As a raw estimation, they are about 50 million meters of polyethylene (plastic) that are used on them", Daniela Palomo affirmed. Meanwhile, the cellulose acetate is easily degraded and that is the importance of this project.
The Future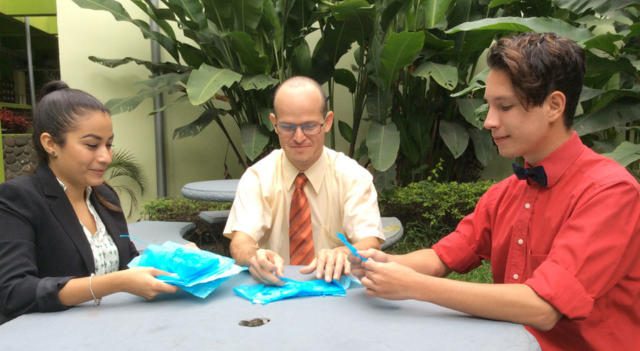 The young students have thought to develop industrially their achievement, which is feasible. According to them, the Bantú plastic bags are molded in coldness, whereas the traditional plastic bags are made in heat, which makes obligatory the use of a lot of energy resources for their manufacturing. "They burn bunker to generate heat, but we do not need to do that", Sebastián Hernández affirmed. If they would have to run the process in heat, they could not add pesticide to the product, since it degrades with the temperature", Palomo clarifies. Besides, these young students consider that the material might have some other applications, like those used for disposable cutlery. Recently, the Universidad de Costa Rica prohibited the use of styrofoam at its campus, since it lasts almost a century to degrade. So the young students realize the presence of an important target there.
Enthusiasm
These boys and girls enjoyed the process of learning, and they even assure that Chemistry is like magic for them. "Right at the moment when you understand why that magic happened, you feel passion", Daniela Palomo assured. At the beginning, the formulation of the bags was a "blue stock, but at the moment it dried up, it was plastic", she emphasized. The work was hard because they had to read many articles and scientific journals, to be familiar with the subject, until obtaining the plastic bags which now makes them dream of having an enterprise of their own. José Eduardo Castro brought out that with this assignment they learned about the many possibilities of biodegradable polymers and their applications.
Course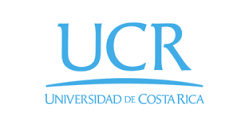 The Chemistry school professor, Darío Chinchilla, explained that the idea of taking this course popped into his mind at the central office of the Universidad de Costa Rica, in Turrialba. "I looked at the Chemistry students' disinterest because they perceived everything in a very theoretical way. I used it as a strategy and it worked very well. Then, I took it to the Rodrigo Facio central office", he remembered. Sebastián Hernández, a Chemistry student, also remembered that, for them, this is one of the last courses of their career and it worked to put into practice all of the knowledge that they had acquired during their formation.
According to Chinchilla, that is one of the objectives proposed by FEDI; that the knowledge they get also has a real value and, complementarily, that allows them to make or to manufacture things which can be sold at the time they can solve problems. "We intend that the student develops his/her idea starting out of nothing and that, additionally, he/she could sell it and market it. This is relevant, most of all, for the Chemistry career in which a lack of soft skills has been detected. FEDI comes on trying to cooperate with that, by developing social relationship skills", Chinchilla concluded.