Costa Rica is known worldwide for its beaches and great biodiversity, however, this country hosts a delicious and varied cuisine and in this article, you can get to know two of its great masters in the kitchen, they are Chef Rafael Calderón and Chef Rodrigo Morales Vargas.
The first one is Rafael Calderón, this extraordinary and multifaceted chef is constantly innovating, reinventing dishes that captivate his audience. And his skill appears on Costa Rican TV with his program "Al Sazón de Rafael", enchanting thousands of Costa Ricans with his food preparations.
TIP: Get our latest content by joining our newsletter. Don't miss out on news that matter in Costa Rica. Click here.
Currently, he has a Web series called "Element Chef", which shows the work of our national gastronomy professionals and how their dishes are conceived and enjoyed in their restaurants. It should be noted that it is the second season of this popular series.
Regarding this, Chef Calderón commented, "We knew that Ticos like to see good quality content; In Costa Rica, there is a lot of talent in the audiovisual field, but many times those works do not reach the small screen. I was sure we could do something original and well done; we wanted the series to be for social networks".
According to Chef Calderón, the objective of this series is to show not only the chef's talent but also his life beyond the kitchen, as well as the history of each of the products that pass through his hands. Likewise, Calderon comments, "For me, gastronomy is not just a good dish created by a good cook; it is much more than that. The products that are used have an origin and behind that, there is, on many occasions, a whole community that depends on the products being placed in a restaurant".
It is important to know that the first season of this series was composed of ten episodes. And thanks to its great success where each episode managed to reach more than 70 thousand visits, this second season promises to go one step further.
"Through social networks we can reach the whole world, so that everyone can enjoy, entertain and learn. Week by week viewers will be able to watch an episode based on Costa Rican chefs, each chapter goes with a common thread, we will see what they like to do, their cuisine and the story behind each participant, from the fisherman to the farmer", said Calderón.
Rodrigo Morales Vargas: the best barbecue in Costa Rica.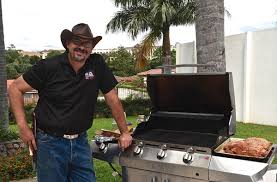 Chef Rodrigo Morales is known in Costa Rica for being a roast lover and will soon participate in the Second Argentine Roast Championship in Miami. This event will be held on Saturday, December 7th, with the participation of barbecuers from Argentina, Brazilians, Uruguay, the United States and of course our "Tico" who can and aspires to be the surprise.
To learn a little about what roast means to Rodrigo, he replied: "The roast, as such, I am sure is in the DNA of humanity, and I am no exception, only that maybe I am more curious. And the theme of the Argentine barbecue is a matter of admiration. I have grown up seeing celebrated steakhouse chefs that are referents, such as Carlos Pati López, Francis Mallman, Ariel Rodríguez and many more. Argentina is the mecca of steakhouses; I admire it and study hard to follow their inspiration ".
It should be noted that Rodrigo has just published a book that bears the name "Al Calor de las Brasas" (In the heat of the embers), this book is his first and so far the only one in the country, written by a Costa Rican Chef. In addition to this Rodrigo has a Facebook page: "Asados and Paellas" where he shows his courses, both for children and adults, plus sharing photographs of the events he attends. He currently has more than 7 thousand followers in this social network.
Without a doubt, these two Costa Rican chefs, Rafael Calderón and Rodrigo Morales Vargas have a lot of talent and knowledge to pass on to their followers and each one from their gastronomic trench leaves the Costa Rican flavor very high on the world culinary stage.