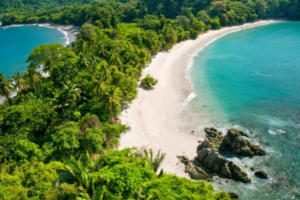 Costa Rica beaches have always been consider some of the best in this hemisphere, Tripadvisor confirms this with the announcement of the "Travellers Choice 2013"
Of the ten best beaches located in Central America eight are in Costa Rica, according to the ranking "Travellers Choice 2013" according to Tripadvisor.
The best beach is Manuel Antonio, located in Manuel Antonio National Park, in central Pacific Costa Rica.
The second among Central American beaches is Samara, also on the Pacific coast of Costa Rica in province of Guanacaste, while the third favorite beach according to Tripadvisor is Traveller's West Bay, on the island of Roatan in Honduras' Caribbean coast.
Apparently tourists have a predilection for the Pacific coast of Central America, as only three Caribbean beaches are among the ten favorite: West Bay Beach in Honduras (ranked 3rd), Puerto Viejo, Costa Rica (No. 9) and Playa Blanca in Guatemala (ranked 10th).
All other beaches mentioned by Tripadvisor are located in the provinces of Guanacaste and Puntarenas, Central Pacific and northern Costa Rica.
In fact, these provinces receive thousands of tourists every year looking for its warm waters therefore its beaches range from sites with white sand and a sea almost no waves, popular sites for surfing.
The Costa Rica News (TCRN
San Jose Costa Rica