Costa Rican National Park Day is tomorrow. How many have you visited?
Costa Rica is a small country but it has the richest flora and fauna in the world. Every year millions of tourists come to Costa Rica, not only to go to the beach but also to experience the pristine nature in the world famous national parks. The five most notable ones are listed here. 
1. Tortuguero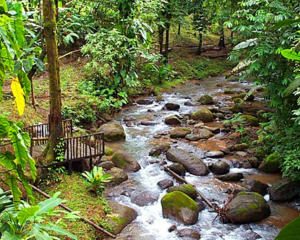 This remote national park with its highly branched river canals on the north Caribbean coast is world famous. Most of the tours are conducted from boats where it is possible to see a huge variety of birds, monkeys, alligators, sloths, snakes and of course, turtles. From July to November you can observe the ocean turtles laying their eggs at the beach and afterwards how the tiny baby turtles emerge and find their way to the sea.
2. Arenal Volcano
Arenal Volcano was once the most active volcano in the world and has the perfect cone shape. Visitors have the chance to see and hear eruptions. There is even lava at night! Around the volcano are different facilities such as hiking trails with rope bridges, thermal springs, luxurious hotels and the lake of Arenal.
[quote_box_center]UPDATE: As of 2010, the Arenal Volcano is unfortunately no longer active; eruptions and lava flow are extremely rare. Even so, the area remains a great place for hiking, and the hot springs are definitely still hot! For more information please visit: Volcano Live.[/quote_box_center]
3. Manuel Antonio
Manuel Antonio is a small national park located in the central pacific and offers beautiful white sandy beaches. Furthermore, this park also includes a section of jungle where it is possible to watch small monkeys, parrots, raccoons, sloths and iguanas living in harmony together.
4. Rio Pacuare
Rio Pacuare is the best river when it comes to rafting. You can go rafting in white water, surrounded by breathtaking nature, far away from civilization. When you go to Rio Pacuare you should combine your stay with a night in the Pacuare Lodge, a beautiful eco lodge with a love for details. Moreover, it also has a restaurant where rich tasty dishes are served.
5. Corcovado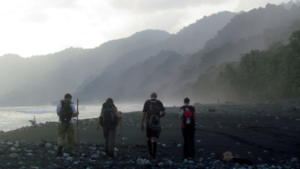 Corcovado National Park is located in the south, far away from all the tourist centers. It is surrounded by untouched rainforest and black sanded beaches. This national park is perfect when you want to go hiking and it is possible to go snorkeling in the mysterious Pacific. When you are lucky, you can also find dolphins swimming in the sea. After all, 2.5% of the world's biodiversity is found within Corcovado!
Originally published: Nov 18, 2013