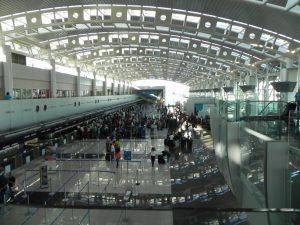 Costa Rica News – The influx of tourists to the country increased by 6.9% between January and September last year, leaving income in the order of 1.7 billion dollars, however, the airport entrance showing a slowdown in the growth rate with respect to previous years.
This is clear from the figures held by the Central Bank of Costa Rica (BCCR) and the Directorate General of Civil Aviation (DGCA). To date there is a section corresponding to annual increase since the statistic is made even for the last quarter.
TIP: Get updates on upcoming Costa Rican Retreats & Events by joining our newsletter. Don't miss out on what's happening around you! Click here.
The DGAC numbers indicate that in the first nine months of last year, the country entered through airlines a total of 1,635,348 people, while at the same period of 2011, the arrival was 1,593,999, representing growth of 2.5%.
If you include entering by land and sea the total reached 1.799 million people.
BCCR statistics show that since 2008, the annual arrival of tourists to Costa Rica is maintained between 2 million and 2.1 million tourists. These numbers contrast with the growth rate in the entry of foreigners into the country between 2004 and 2007, when the annual differences were more significant.
The Minister of Tourism, Allan Flores, said these were positive numbers and emphasized that the Costa Rican Tourism Institute (ICT) is in negotiations to attract new airlines to the country. "I have information that the Juan Santamaria International Airport closed in a major way, like the International Airport Daniel Oduber. You have to wait for data from the fourth quarter of 2012, "he said.
Flores reiterated that the expectation for 2012 is the total revenue of just over 2 million tourists, although he preferred to reserve a screening officer, said it would be irresponsible of them to do an approximation. The higher income still comes from the U.S. and Canada.
"What I can say is that we are increasing the budget for promotion and marketing and our participation in international fairs, plus this year we hope to have completed the National Convention Center, which will attract other forms of tourism," he said. As published on Wednesday this medium of communication, investment promotion for 2013 will amount to $ 17 million.
The Costa Rica News (TCRN)
San Jose Costa Rica