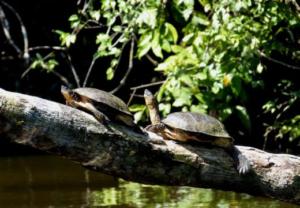 In the North-East of Costa Rica, directly on the Caribbean Sea and close to the boarders of Nicaragua, between the Ocean and a river called Laguna de Tortuguero, you can find a small village called Tortuguero. It´s located on a very small island and the only way to get there is by boat. The journey from San José takes four and a half hour by bus.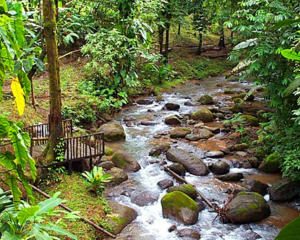 The attractive characteristic of Tortuguero is not the village which is built up of little bloghouses (stilt houses), three supermarkets a bit overpriced, one barber shop and several Sodas, a few bars and even two clubs but rather its national park. The Tortuguero National Park is stunning. There are two ways of visiting the Park: first and more spectacular is to rent a canoe which is included in the price of entry of the national park (30$). The tour by canoe takes three hours and you have a guide who explains a lot to the different animals and plants you get to see. The second way of visiting is to rent gumboots and walk through the rainforest along the river.
If you choose to visit the park by boat, make sure that it is not motorized because otherwise the animals get disturbed. The best way to visit the park is by canoe because it´s really quiet and slow enough not to miss any animals.
The best time for a tour is the early morning (6 am), as the nightly rains have stopped and the animals have left their comfortable nooks and alcoves and are active. The canoes hold a maximum eight persons including the guide, who paddles slowly, to the other side of the river where the backwaters branch off. In these tributaries there are not many motorboats and the traffic is less than in the Laguna de Tortuguero. For animals it´s a perfect place to live. If you´re lucky you can see monkeys, alligators, birds, water turtles, termites and sloths.