Once it dawned on us that plastic pollution might as well be what UN environment chief Erik Solheim called "an ocean Armageddon" in the making, we have been trying everything to stop this bad tide. Enter  Kids Save The Ocean. KSTO is a grassroots project founded by Peder Hill, a Californian teacher, surfer, and conservation geneticist. The spirit of the entire project is "to give kids all over the world a powerful voice about the environment, now and forever".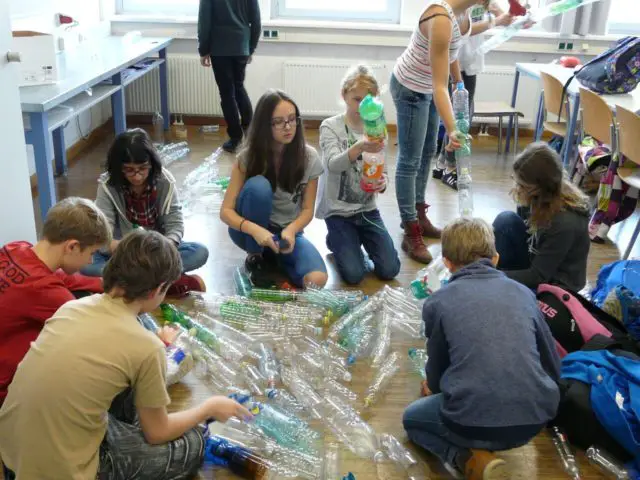 In 2016, Peder, along with a group of concerned 12-year-olds from Gymnasium Draschestrasse, a bilingual school in Vienna, built "The Last Whale": a 5-meter-long humpback whale, from trash. They wanted to highlight the problem of ocean pollution. In just a short time, the KTSO initiative can exhibit some important results.
* So far, the group has gathered an international team of over 40 volunteers, among them David Carson –one of the world's most famous graphic artists– to support the campaign.
* 6 of the group's volunteers are developing a mobile app, Fatechanger, to teach children about ocean pollution and give them a voice and a means to do something about it.
* In collaboration with a makeup school from Austria, the kids will be face painted as sea creatures affected by ocean pollution. The photographs will be used to showcase the issue.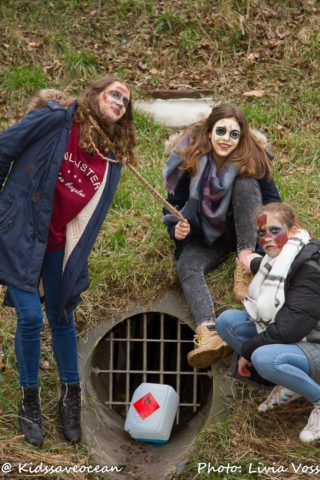 * KTSO has initiated the world's first Children's Clean Ocean Summit. The event, called "The Last Whale" will be held at Vienna International Center (VIC), United Nations in Vienna, Austria's biggest space, on June 22nd.
* The whale will be on exhibition at Austria's largest aquarium –the Haus des Meeres and from June 4th-8th– it will also be at the UN in Vienna.
* Several like-minded children groups around the world are expected to take part in the Summit.
* The UN will invite the Austrian President to the Summit.
The one-day event intends to bring global attention to ocean pollution and will be the focal point of Austria's World Environment Day celebration and will be totally in tune with the themes for Earth Day 2018, on June 5th:
"- Getting rid of single-use plastics
– Promoting the use of alternative materials
– Recycling and developing more responsible behaviors concerning the use of plastics".
After the Summit, the children will issue a Declaration on Ocean Pollution that will include a prioritized list of what should be done and a call for action -signed by delegates including their ages and countries.
~ Too Many Cam'ras And Not Enough Food, 'Cause This Is What We Have Seen. Driven To Tears.
It would seem obvious that the solution is to stop dumping plastics in the oceans. But it is a love/hate relationship. Plastic is all around us, inside us. From appliances to condoms; from modern prosthetic limbs to kitchenware and food packaging. You can probably survive drinking a soda without a plastic straw but can you imagine surgery without rubber gloves? Sports without plastic protection gear?
It is necessary to promote collaboration between environmental groups, nonprofits, schools, media, private companies and governmental agencies to develop and execute programs to clean up the plastic that is already out there and more importantly, to stop a new one from adding up to the mess. Because it is not that we use plastics for almost everything, it is what happens to them afterward what is important.
* There is no single, easy, short-term solution to the problem. Plastics removing machines, beach cleanups, biodegradable plastics, plastic-eating microorganisms, hard and soft laws, anything goes, but as long as we are in a "take, make, waste" lInear economy model, any approach to solve the present problem can only do so much.
* We are not recycling as many plastics as other materials, like aluminum or paper. As it is always the case in our world, recycling is a money-driven process. Basically plastic is more expensive to recycle than it is to produce it new. Why? Sorting, cleaning and preparing used plastics for recycling is labor intensive and consumes a lot of water, time and energy.
* Plastics are made from oil. As the price of it dropped, it has become even cheaper to make plastic goods.
The task is so huge, expensive and complex that it can be argued that we should stop recycling. What should we do instead? Some experts say an answer is a three-pronged approach:
* Reduce: Use fewer resources.
* Reuse: Use the same resources again
* Recycle: Make new things using old ones.
The whole planet is dependent on which paths we take. What kind of world are today's children going to live in if we do not change our present course of action? At this point, there is a particularly apt quote we should bear in mind:
"We Do Not Inherit The Earth From Our Ancestors; We Borrow It From Our Children"
Theme: Driven to Tears Song by The Police (1980)
Previous article: Bad Tide Rising