World Bicycle Day, also called Bicycle Day, is celebrated worldwide every April 19th, with the intention of highlighting and awareness about multiple benefits that for people and the planet brings using the bicycle for transport and leisure.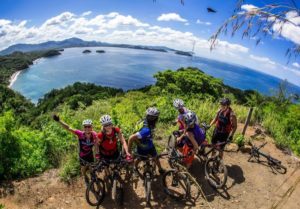 Did you know that more than 100 million bicycles are sold every year around the world? It is a figure that quadruples the data of the decade of the 70, and that without a doubt makes presage that every time there is a greater preoccupation to take care of the Planet. And it is not uncommon for the annual bicycle purchase to be so great considering that bicycle users are part of a community of one billion members. Costa Rica is one of the Central American countries that most represents the taste for the bicycle. Its beautiful landscapes are full of internationally recognized cycling routes, some of them are the scene of world-renowned competitions with participants from all over the world!
What's the origin of this celebration?
The date refers to April 19, 1943, when Albert Hofmann, a Swiss chemist, performed in his laboratory a self-experiment with a substance to determine its psychotropic effects, after which his return home by bicycle would become famous. That day Hofmann deliberately ingested 0.25 milligrams of lysergic acid (LSD) which amount he considered at that time a dose minimally effective.
Hofmann experienced intense and sudden alterations in perception. He asked his laboratory assistant to escort him to his home; As the use of motorized vehicles was prohibited because of the restrictions imposed by the war, they had to make the trip by bicycle. This trip by bicycle back home showed the chemist the intense effects of the substance experienced.
Bicycle Day had its origin in DeKalb, Illinois, in 1985. Thomas B. Roberts, then a professor at the University of Northern Illinois, created the name "Bicycle Day" and for the first time, he held this celebration in his own home. Although Roberts intention was to commemorate Hofmann's experience with LSD, over the years this day became a date to celebrate the virtues of the bicycle and fight to make it an increasingly recognized means of transport for the well-being of the earth and its inhabitants.
4 Wonderful biking routes in Costa Rica
April 19, is a good day to get your bike, take a ride, go around and in a healthy way commemorate the World Bicycle Day. And Costa Rica is a perfect country to ride a bike, there are perfect routes for all tastes and abilities! If you do not know these routes, here we will show you some of the most interesting and entertaining:
1. Ruta de Los Conquistadores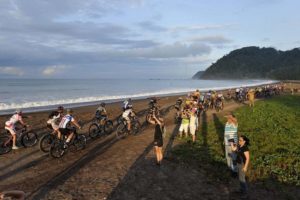 The scenario of the annual cycling competition that gives it its name, this trail that runs along a 270-kilometer dirt road through all of Costa Rica is considered one of the most incredible cycling routes in the world. From the Pacific coast to the Caribbean coast, this route takes muddy trails, jungle and coffee plantations. Bordering the capital, San José passes near the extinct volcanic peak of Irazú and down again to the mangrove forests and white sand beaches so the traditional end of this trail is a dip in the Caribbean!
2. Tour of the Orosi Valley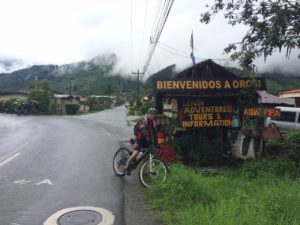 The tour of the Orosi Valley has become a classic for runners, but also highly appreciated by bikers, especially on Saturdays or Sundays, days when amateur cyclists decide to go out and enjoy a ride. This route lasts from 3 or 4 hours onwards, and its difficulty is not so great so if you are not an expert on your bike you can still enjoy it.
3. Las Catalinas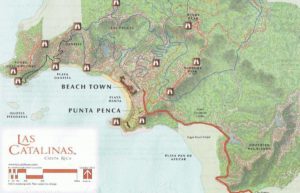 Las Catalinas is an extremely fun, flowy downhill ride without major climbs. The ride is located in the small beach town of Las Catalinas, throughout the tour, the views are incredible, with the Pacific Ocean being a beautiful muse. It is a route of only 13 km and its difficulty is moderate, perfect for all types of cyclists, even for people who just want to get out of the routine and grab a bike that usually has full of dust because of the disuse.
4.Rincón de la Vieja Volcano Route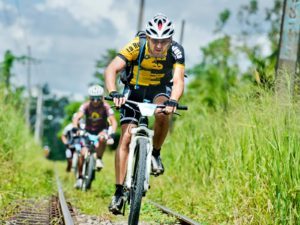 The Rincon de la Vieja offers the only place in Costa Rica where you can mountain bike on an active volcano. This medium level ride travels along the flanks of the majestic Rincon de la Vieja Volcano through lush mountain rainforest. It includes some tough climbs, rolling hills, and excellent downhill sections, maybe not for the less risky beginners, it is certainly a very entertaining route that can travel between 10 and 30 km depending on the level of the cyclist.
Electric bicycles, public bike services, tourist cycling routes, every day there are more entertaining alternatives. Being healthy and respectful of the environment is part of our responsibility as citizens. The freedom, speed and sense of well-being that this means of transport gives us are wonderful, and whether it is to go to work or as a recreational activity, the bicycle is present in the way of life of hundreds of millions of people. This World Bicycle Day grab your bike and enjoys Costa Rica's routes!