First San Jose Location Opening Just Five Months after Signing Agreement
MIAMI, Mar 22, 2012 (BUSINESS WIRE) — Miami-based Pollo Tropical® announces the opening of its first franchised restaurant in Costa Rica, in San Jose's main square: Parque Central. The opening marks the first of what it hopes will be at least five Pollo Tropical locations of the famous Latin grilled chicken brand being established in Costa Rica by international franchisee, Chicken Tropical Service SA. A second unit is slated to open in Liberia, Costa Rica at the end of the month. Liberia is 134 miles northwest of San Jose.
According to Pollo Tropical Senior Vice President of International Development, Marc Mushkin, the franchise group opening the Costa Rica Pollo Tropical locations is regarded as one of the most successful restaurant operators in Central America.
The operating partners of Chicken Tropical Service SA include Alberto Chacin, Jose Chacin, Carlos Borregales, Leonardo Belloso and Rafael Belloso. Mr. Borregales as well as Leonardo Belloso and Rafael Belloso are also partners in more than 30 international Burger King® franchises in Costa Rica, and another 13 Burger King franchises in Panama. This first Costa Rica Pollo Tropical location is a non-traditional location, in the Palace Food Mall at Parque Central in San Jose.
The Costa Rica location's menu boasts the famous Pollo Tropical flame-grilled chicken and roast pork and will also offer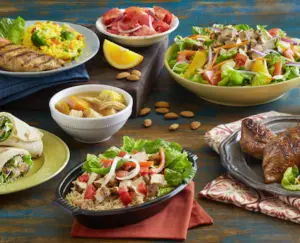 locally-sourced ribs. Other menu favorites include traditional Caribbean white rice and beans, fresh side dishes, as well as the Pollo Tropical TropiChops® – a casserole bowl of grilled chicken breast, pork or vegetables served atop a bed of white or yellow rice. These selections are accompanied by a variety of other offerings such as the Caesar salad, a hearty Caribbean Chicken Soup, wraps, sandwiches and a variety of desserts and beverages.
According to Mr. Mushkin, Pollo Tropical is actively seeking seasoned franchise candidates with experience in the hospitality industry to enter into multiple-unit franchise development agreements. Targeted franchise territories in the Western Hemisphere include Canada, Brazil, Chile, Colombia, Mexico and the Caribbean. In addition, Mr. Mushkin has recently represented the brand on trade missions to major world markets such as the UK, Turkey, India, Vietnam and Indonesia, with an eye to future expansion.
ABOUT POLLO TROPICAL®
Pollo Tropical owns and operates 91 locations in the United States (Florida, Georgia, New Jersey), has a total of 32 franchises with international locations in Puerto Rico, the Bahamas, Ecuador, Honduras, Trinidad, and Venezuela, and has franchise restaurants in development in Panama and Costa Rica. In the United States Pollo Tropical franchised locations can be found at Florida International University, University of Florida, and Florida State University. The first Pollo Tropical restaurant opened in 1988 in Miami, Florida. The unique restaurant concept is known for its fresh, never frozen, open flame grilled chicken, marinated in a proprietary blend of tropical fruit juices and spices, as well as authentic "made from scratch" side dishes.
Pollo Tropical is a wholly owned subsidiary of Fiesta Restaurant Group, Inc., an indirect, wholly owned subsidiary of Carrols Restaurant Group, Inc. Fiesta Restaurant Group owns and operates two Hispanic Brand restaurant chains, Pollo Tropical and Taco Cabana®. Carrols Restaurant Group, Inc. is one of the largest restaurant companies in the United States. The Company operates three restaurant brands in the quick-casual and quick-service restaurant segments with 547 company-owned and operated restaurants in 17 states. Carrols Restaurant Group is also the largest Burger King® franchisee based on number of restaurants and has operated Burger King restaurants since 1976.
For more information on Pollo Tropical, including menu items and nutritional information, visit online at www.pollotropical.com