Two Bavarians head out on the road to Rio Celeste and Tenorio National Park, what do they find?
Once you're visiting the area around the Volcano Arenal, there are several places you might want to visit, like La Fortuna or the Hot Springs.
An insider tip that is rarely displayed in travel guides would be the Tenorio national park, near the volcano Tenorio, which measures 1916 meters at his peak. This trip is ideal if you enjoy walking and nature in Costa Rica, want something off the beaten track, something exciting. It offers great hiking trails and a crater lake, but the most beautiful and breathtaking part of the national park is the Rio Celeste, a river that is colored in an incredible and unbelievable turquoise.
Coming from La Fortuna, you can reach this destination from San Rafael de Guatuso, where a 16 km long, unpaved and very bumpy road departs right after the bridge over the Rio Frio to the entrance of the park. It is strongly recommended to drive a reliable car with four-wheel drive, otherwise you might not even reach the park in one piece!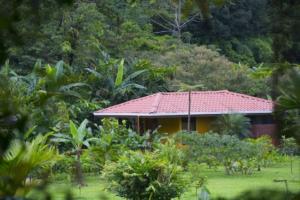 After paying the entrance fee of $10 at the Hotel Catarata Rio Celeste, you can decide if you want to attend a 4 hour tour, held by the owner of the hotel or his son. The paths are well provided with signs, so you'll easily be able to find the way on your own.
One destination while wandering on a (sometimes incredibly muddy) trail through the lush green rain forest is the "Catarata Rio Celeste," a majestic waterfall cascading into a pool of incredibly turquoise water. You'll think you stepped right into a fairy tale…
Others are a large lagoon and some hot springs you can watch bubbling. Near the end of the trail you can see the origin of the Rio Celeste, where two non-colored rivers meet each other: the Rio Buenavista and the river Quebrada Agria. This location is known as "El Tenidor," which means as much as "the Dyer" in English, as this is the point where the river is starting to turn blue.
Legends say that the color of Rio Celeste is a result from god painting the sky and washing his brushes in the river afterwards.
In reality, there are many theories why the river has it's unique color. One is, that the rocks at the bottom of the river have a mineral coating, consisting of silicon, oxygen and aluminum, that shines blue in the sunlight. This natural phenomenon gave the river "Rio Celeste" its name.
While wandering across the small paths, you should stop every now and then to take a look into the green thicket – with a little bit of luck you might catch a glimpse of one of the many shy animals living in the rain forest.