A new personal-safety app for Apple and Android allows friends to virtually walk each other home.

The app, called simply Companion, was originally designed by students at the University of Michigan to protect students walking home late at night. Today, however, Companion has well over 10,000 downloads from all around the world.
Lenxie Ernst, one of the students who founded the app, told the IBTimes UK:
[quote_center]"Both men and women from all demographics have emailed us saying they'd love to use the app. Lots of parents want to use the app for their children, and some people want their elderly parents to use it, too, to make sure they don't get lost."[/quote_center]
Why is it necessary?
The developers of Companion make it quite simple:
[quote_box_center]First, you shouldn't have to worry about letting someone know your constant location or if you make it home safely. Companion does this for you, making your safety convenient and seamless. Watching your friend's back (and having them watch yours) is now just a few taps away.
Second, all existing solutions are reactive and delayed. If someone is expecting that text from you in 10 minutes but never hears from you, you either forgot (very common), or something really did go wrong, in which case it's probably already too late.[/quote_box_center]
No matter how many martial arts classes you take, no matter how tightly you clench your secret weapon in your fist, nothing can fully prepare you for an emergency situation. Inevitably assaults happen to all sorts of people. Ideally, nobody would ever have to walk home alone, but parents work, taxis can be scarce, and so we do. We expose ourselves in route from 'here' to 'there.'
It's not just nights either. Sundays — with everyone sleeping in, stores closed, streets empty — can be unsuspectingly dangerous in Costa Rica. One man who has been assaulted not once but twice on various Sundays explains:
[quote_center]"The experience makes you doubt people. It strips away the innocence of thinking how people are good and makes you view the world from a different perspective."[/quote_center]
Truthfully, the government has been hard at work improving safety in Costa Rica, especially for women. Many sources also claim that despite ever-rising crime rates in the general population, expats are rarely targets.
Still, we worry about the people we care about… and often we worry about ourselves too. The mere possibility of being mugged — not to mention being kidnapped or assaulted sexually — takes its toll physically, psychologically and even financially.
Let's face it; we all could use a little more security.
So how does Companion work?
Before hitting the road, users of the Companion app can pre-select their route home. Once set, requests can be sent out to friends or family requesting their presence as a virtual companion. Those requested will receive a link to an interactive map, showing the walker's location.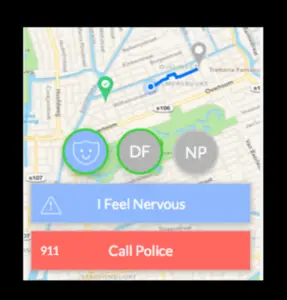 The app responds to subtle signals that something has gone wrong. For example, if the person walking home falls down, starts running, strays off their path or even disconnects their headphones, the app will ask if he or she is okay. The walker then has 15 seconds to respond before the phone turns into a loud personal alarm system, hopefully deterring any potential threats or at least attracting the attention of help.
In the States, the Companion app offers users the opportunity to immediately call the police. Developers are rapidly working on making this option available for users in other countries too.
No matter what country the user is in, however, when Companion senses an emergency, the app will always send a text message to the previously-selected, real life companion(s) watching the walker online. That person will then be able to contact authorities and give them the walker's live GPS location.
Companion is a free app. The only information they occasionally share is anonymous and sent to local authorities for the sake of improving the security in zones where users have reported feeling "nervous." For more information or to download the app, click one of the links below.