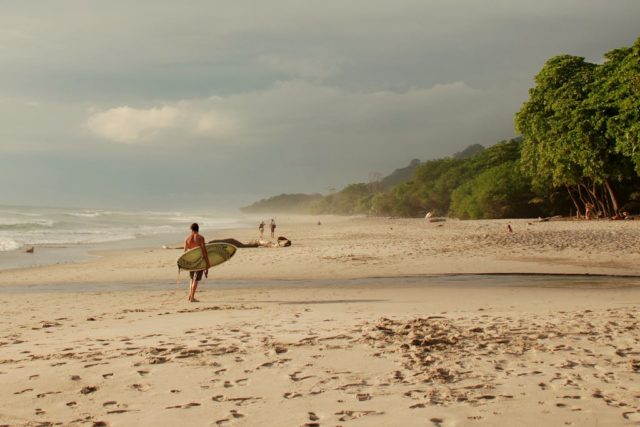 Malpaís is a small coastal town located at the southeast end of the Nicoya Peninsula in the northern part of Puntarenas which began as a fishing and livestock town and has become popular with surfers and adventure travelers around the world. If you are looking for peace and some of the best waves in the world, go to Malpaís. It stretches for approximately 6 kilometers of coastline, from Playa Carmen to the Cabo Blanco Nature Reserve. Most people refer to the entire area of Playa Carmen and Santa Teresa as Malpaís.
The Meaning of Malpaís.
Malpaís is quieter and less developed than its counterpart in Santa Teresa. Many Spanish speakers wonder about the origin of the name, which translates as "Bad country". Rest assured that Malpaís is the opposite of something bad.
It owes its name to the summer season, during which the rivers and streams that flow into the region dry up, which is "bad" for the soil, used by the first inhabitants, Malpaís has preserved its serene environment, even while the nearby towns have become more commercial. If you are interested in avoiding large crowds, this is the perfect place to get away.
Focus on the Waves.
Unlike other places to surf, Malpaís is a small community without much development, which means you can enjoy empty beaches and perfect waves with few distractions. It can be easily reached by ferry from Puntarenas. This beach is known for the diversity of its waves, offering an ideal combination of nice spots and difficult challenges.
The best surf.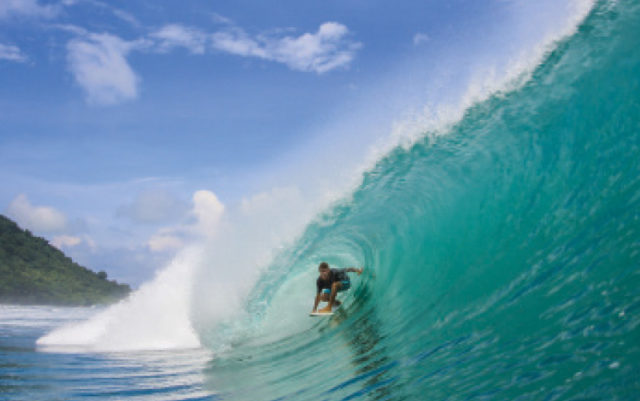 Enjoy consistent waves as well as a long vacation, the Malpaís region has everything for surf lovers. The coast has rocky beaches with stretches of sand decorated with seashells. It even has some unique volcanic formations along the coast, creating a lovely landscape.
Located a few kilometers north, Santa Teresa shines as a single point for surfing. Surf shops, hotels, and bars line its beaches and streets. From beginners to experts, all can find waves suitable for their needs.
Playa Carmen is a very popular place to surf within Malpais. It is characterized by its strong waves to the right and lighter to the left side. Under ideal conditions, the waves can be very high, making large barrel tunnel shapes. Surfing here is better at high tides.
Punta Barrigona.
The other two main beach sections in Malpaís are not recommended for beginners. The first, Punta Barrigona, is a beach with big waves to the left side. Even if you are experienced, be very careful when you are in Barrigona Beach, since the underwater stones can be very dangerous.
Sunset reef.
For experienced surfers, this area is more difficult. Sunset Reef is another beach with a tendency to offering large barrel tunnels. If you decide to take a challenge, this section is the best to surf in high seasons with winds coming from the coast. Again, be careful when surfing here, as the reef can pose a threat to even the most experienced surfer.
Much more than only surf.
In addition to surfing, Malpaís is full of other water sports. The southern tip of Malpaís is a small fishing port that serves as a base for boat trips, both scenic and fishing trips, around the tip of the peninsula. Fishermen will guarantee delicious fresh fish almost any day, and you will not be disappointed if you visit the waters of the maritime sanctuary at Cabo Blanco.
Explore the world under the waves near the southern part of Malpaís, where you will find a variety of beautiful and colorful fish. You might even be able to observe some sea turtles. If you prefer activities on land, be sure to book a horse ride, quad bike routes, hiking trails, and canopy tours, where you can find hundreds of different tree species. An important pastime here is simply to relax or sunbathe on the beach.
Birdwatchers also go to Malpaís, as it is home to a variety of coastal and migratory birds, including the red macaw, kingfisher, and hawks. Don't miss a day trip to Cabo Blanco Natural Reserve, which was the first protected area in Costa Rica. This park consists of 1,270 hectares inhabited by 150 species of birds, such as brown pelicans, laughing gulls, and ospreys.
Nightlife.
The nightlife in Malpaís is wonderful; Enjoy quiet romantic evenings, starry skies and the sound of the waves which will bring you in tune with the natural aspect of this tropical paradise. If you are looking for action, Santa Teresa, right next door, is full of activities; every night of the week there is something to do in the beach bars and the morning you can enjoy the sun and outdoor activities.
Local and foreign visitors give the area an international and multicultural environment, very eclectic and pleasant unlike any other beach on the Nicoya Peninsula. It offers several bars and party sites, many of which are located on the same beach. At the same time, there are quiet places available along the secluded beach coves, reefs and natural pools that make it an ideal place for romantic nights.
With excellent weather throughout the whole year, making Malpaís a true gem of Costa Rica for vacation destinations. Generally, with few people, the area combines natural beauty with abundant tourist facilities and services that dot the coast.
How to get here?
When making travel plans to Malpaís, it is useful to know that there are two ways to get there. The first is to take a ferry from the town of Puntarenas to Paquera, where you can drive or take a bus. The second option is to take a domestic flight from the Juan Santamaría International Airport in San José or the neighboring Pavas Airport to the Tambor Airport, and from there you can take a taxi directly to Malpaís.