Have you ever thought about owning your own coffee plantation? Owning a luxury home on a wine vineyard has been a dream of many affluent property seekers and now the trend has been switching to coffee plantations.
Imagine waking up in the morning and steeping your own Costa Rican blend coffee from coffee beans that were handpicked only a few feet from your estates doorstep.
TIP: Get our latest content by joining our newsletter. Don't miss out on news that matter in Costa Rica. Click here.
While you're dreaming, picture yourself holding a steaming cup while standing on your terrace overlooking sweeping valley views as the sun comes up over the Central Valley mountains in Costa Rica, with a fresh mountain breeze cooling your sunbathed face, or being able to send your family and friends gift bags of fresh organic coffee from your own plantation.
For those that can afford it and it's more affordable than you might think, owning a coffee estate has become a growing trend in Central and South America. This has been a highly prized market for Europeans for decades and now the trend has spread to North Americans looking luxury estates with novelty and income potential.
Coffee from Costa Rica offers a multitude of unique flavors, each special because of a variety of geographic factors. Costa Rica's unique environment produces one of the best Coffees of the world.
In Costa Rica, harvesting coffee fruit and processing the beans is a labor intensive, meticulous process that takes a lot of time and effort, fortunately the process is inexpensive here. The coffee tradition is an integral part of Costa Rica's rich cultural heritage.
While there are numerous small farms as well as the larger agro-business plantations, there are limited luxury estates that include coffee growing operations that are on the real estate market here in Costa Rica.
The coffee plantation estates that are on the market are often snapped up quickly especially if they have all the markers and amenities' that luxury property seekers are looking for.
What are these markers and amenities luxury real estate buyers are looking for in their investment?
Apart the important aspects such as security, political stability, a growing economy, tropical environment, weather and available unique and rich experiences, it is still location, location, location.
We went looking for the perfect estate coffee plantation that had location as well style, luxury, class and was on the market at excellent value.
The estate we selected is called Casa Montserrat in Escazú, Costa Rica and in the Costa Rica real estate market, it is a true jewel.
[nggallery id=58]
Perfectly located above Escazú high in the mountains of the Central Valley, Casa Montserrat is only 30 minutes from the airport and only 15 minutes from Escazu, with its upscale restaurants and grocery stores.
The perpetual spring like weather is what the local expat population call "simple perfect", warm in the day; cool in the evenings, breezy and sunny.
Sitting majestically on the mountain slopes of the Central Valley. Your breath is taken away by the misty mountains and valley views. The Casa Montserrat estate is a dream and a vision of what an opulent coffee plantation estate should look like.
With court yards, pool, rancheros, privacy, security, walkways through lush tropical landscaping, guest house, this 6 bedroom, 7 bathroom mansion sits on a 26,791 Sq. M of rich tropical, perfectly sculpted tropical land; this plush estate really does have it all.
Casa Montserrat produces about 300 pounds of unique, richly flavored Costa Rican coffee per year, which is usually split in two harvests. The owners use the coffee is for personal use and it is also used as gifts to family, friends and visitors.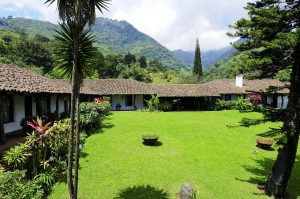 With sweeping valley views, elegant Spanish colonial design, flowing indoor and outdoor areas, flower gardens, privacy and the sheer luxury of Coffee Montserrat, and at $1,250,000 USD, our luxury real estate panel has selected Casa Montserrat as one of our Feature Estates.
We asked the owners of Casa Montserrat to take us inside for a personal and in-depth look at life inside a luxury coffee plantation estate.
In part to of our Luxury Estate Feature Series we go inside Casa Montserrat for a firsthand look at luxury eco-living in one Costa Rica's finest coffee estates.
For more information on this or other estates or for a personal viewing of Casa Montserrat fill out the form below and one of our Real Estate Specialists will be happy to assist you.
You can also contact the Sotheby's International Realty Consultant directly: Daniel Yepez ([email protected])
Category: Costa Rica >> Costa Rica Real Estate >> Luxury Real Estate
[gravityform id="1″]
The Costa Rica News (TCRN)
San Jose Costa Rica