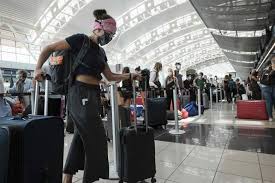 The Ministry of Health will allow the entry of travelers from 44 countries to Costa Rica, including Australia, China, and Japan, as announced by the Costa Rican Tourism Institute (ICT) on August 13th.
The initial list of countries allowed only travelers from the United Kingdom, Canada, and the European Union. This new list, although it is mostly made up of countries from the European Union, also includes some Asian countries.
The new list allows the entry of people from Japan, Thailand and China, in the case of Asia; from Australia and New Zealand of Oceania, while from Latin America travelers will be allowed to arrive from Uruguay.
"We continue taking the first steps in the gradual opening of air borders, progressively expanding the list, reaching a figure that exceeds forty countries," said Gustavo Segura, Minister of Tourism.
"Little by little more destinations will be incorporated based on the analysis of the scenarios with the evolution of the Pandemic and its impact on the local and international levels," he added.
Those who choose to visit the country must meet three entry requirements:1) Buy a medical insurance that covers care for Covid-19.
2) A negative COVID-19 test in the 48 hours prior to the trip.
3) Fill out a (virtual) form called the Health Pass.
Although originally only insurance from the National Insurance Institute was allowed, this was changed to include any insurance that has an effective policy during the visit to Costa Rica, coverage of COVID-19 medical expenses for at least $50,000, and minimum coverage of $2,000 per extended lodging expenditures.