The Costa Rican Electricity Institute (ICE) promotes the creation of an artificial reef in Playa Hermosa Guanacaste, with the intention of contributing to the protection of ecosystems.
For this, the institution will have the task of using thousands of porcelain insulator waste, which comes from the country's electricity grid.
"Through the initiative, within two months the placement of the first module of this structure will begin, with a diameter of 6 meters, pieced together from interlocking pieces built with isolators," said the institution through a statement.
To anchor the structures on the seabed, ICE will have divers that have hydroelectric plants in the country.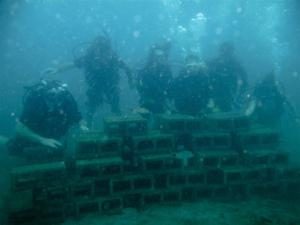 "This initiative is an innovative idea that will mark a paradigm shift in the management of waste and to extend the shelf life of these materials after leaving the system, contributing both to the country's biodiversity," said Walter Arias, Socioambiental Business area Distribution and Marketing of ICE.
The reef will have a height of 1 meter 30 centimeters and a depth between 25 and 28 meters, so that after 6 months the coverage on the artificial reef structure is compact and will allow marine species to have a new space.
The project include the participation of marine biologist from ICE and is done in coordination with the Ministry of Environment (MINAE) and the Condo-Fish, an organization dedicated to protecting the reefs of the area.
Source: elperiodicocr.com