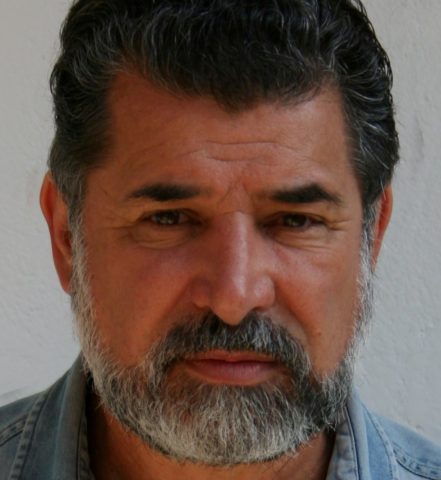 Known for his diverse sculptures and extensive work in the field of architecture, Ibo Bonilla Oconitrillo has become one of Costa Rica's most influential artists. He is an architect, sculptor, geobiologist, pedagogue, math teacher and business administrator. He has Costa Rican and Spanish nationality and is known above all for the creation of bioclimatic buildings, infrastructure in protected wild areas, his monumental sculptures in public squares and his controversial mathematical proposals.
When it all started.
Ibo Bonilla, known as "Maestro Ibo", was born at Sarchí, in 1951 a town of Alajuela recognized as the cradle of Costa Rican art. He has traveled the entire world doing different trades and lecturing, graduating in various professions such as architect, sculptor, educator, math teacher, quality management and evaluation and business administration, these degrees obtained at the University of Costa Rica, Polytechnic University of Valencia, Gea Association of Geobilogical Studies and at the European School of Business in Spain.
Ibo currently works for his own architecture company and is an international lecturer and consultant in responsible architecture for the environment, green construction, and sustainability. He is the first architect who graduated in Costa Rica, in 1977 (this career used to be studied only abroad), and the first American incorporated as an architect in Spain within the context of the European Union.
Artistic career.
He is considered one of the most outstanding architects of his country and has participated in projects involving more than 5 million square meters developed in America and Europe. The Costa Rican Chamber of Construction awarded him the 2018 Sustainable Construction Award in the professional career category, being the third architect awarded, for his long and intense performance in the promotion of sustainable construction, through thousands of works, hundreds of research, publications and conferences in dozens of countries, and contribution in generating certification for sustainable works in the tropics.
In the academic field, Ibo Bonilla's definition for architecture has become a reference: "Architecture is to sculpt the space to meet physical, emotional and spiritual needs, protecting the result with a harmonious skin that includes aesthetics, techniques, and vision of the moment in which it is done. Architecture is modeling social meta-skin with art. When the skin becomes preponderant for its aesthetic value, it tends to be sculpture, if the predominance is technical, it tends to be constructive engineering if the emphasis is the site, it tends to be landscaping if there is a harmony between all the systems, we are in the presence of good architectural work. Each work has its proportion and the just measure is the architect's task, and if he makes his dialogue and synthesis a poetic synergy, then we have a work of art. "
Famous Sculptures.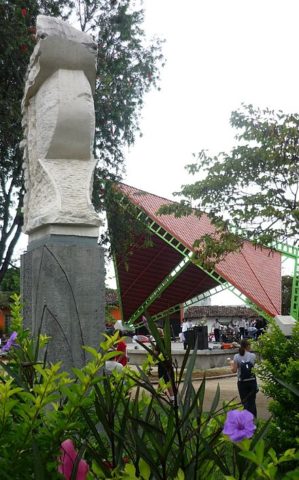 His sculptural work is in public parks, museums, galleries and private collections in different parts of the world. His characteristic themes are tropical biodiversity, feelings, close perception and women.
The work is done with different techniques and materials: wood, stone, and metal carving; clay modeling, plaster molding and subsequent emptying in different materials; Experiments with different products such as glass, quartz, lava, resins, ceramics, ferrocement, etc.
He has specialized in medium format (70 to 200 centimeters high) for interiors and large format with monumental sculptures and sculptural walls. Participating in various collective and individual exhibitions, as well as in multiple workshops and seminars on painting and sculpture in Costa Rica, Spain, and Mexico.
Among his best known artistic works are: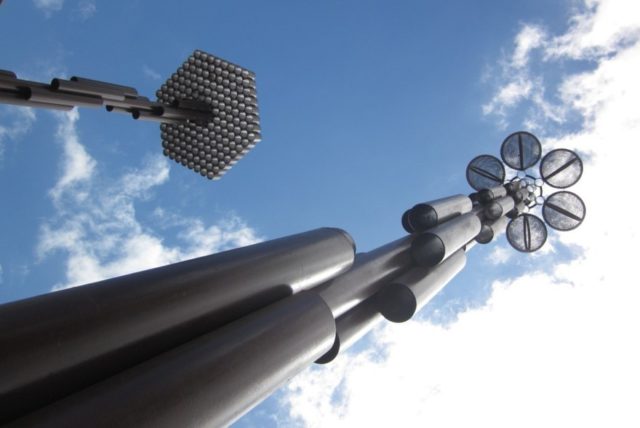 "The Obelisk Fi": It is a statuette cast in bronze and represents the National Architecture Prize, awarded every two years by the College of Architects of Costa Rica.
"Art for life": 22 sculptures each made with lava from different volcanoes next to quartz blocks, showing the two extremes of crystallization: the ancient drop by drop and the explosive and instantaneous lava on contact with the air.
"Tropical flora": Measuring from 70cm to 160cm. It is exposed in the Legislative Assembly of Costa Rica and auctioned for the benefit of HIV-AIDS research and treatment in the "Hogar de la Esperanza".
"Cercanías": Sculpture of 3.80 meters high that is in the Sculptural Park of Barva next to works of other renowned sculptors from various countries,
"Sieged Nature": Sculpture in lava, articulated in two pieces exhibited in the museum of the Plaza de la Cultura in San José.
"Amar y Brío ": Two sculptures in diorite, 2 meters high, located at the entrance to Puebla Real in Heredia.
"Spiral of success": Set of three steel sculptures. Located on Terra Campus, Tres Ríos. With its 18 meters, it is the highest in Costa Rica.
"Eaves and horizons": A set of 3 works in Guanacaste wood, of recycled crafts for EXPO ARTQUIS celebrated in 2011 for the 40th anniversary of the School of Architecture.
"Ancestral flower": Made at the International Symposium of Sculpture Heredia 2013, organized by the National University and the Municipality of Heredia.
"Marble of Nicoya": 2m high. Located in front of the headquarters of the Public Utility Company of Heredia.
Among his best architectural works (buildings) are:
–Latin American University of Science and Technology,
–Roche Laboratories,
–Cathay Bank,
–Belén Fire Station,
–Ocony Companies,
–Irazú Radiotherapy Center,
–Ibero-American Hospital,
–Ibero-American Geriatric Clinic,
–Mar y Sol Condominium, 352 Figurama Esthetic clinics, several Clinics and Dispensaries for –National Insurance Institute Clinics and Dispensaries (various).