Costa Rica is cracking down on illegal breeders. Learn how you too can help animal welfare!
Earlier in April, 64 dogs were seized from tragic conditions in a puppy mill in La Union, and their breeder fined. According to Cynthia Dent, executive director of Humane Society International (HSI) Latin America: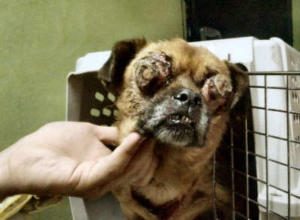 [quote_center]"[The] dogs were uncared for, with skin conditions and very poor conditions regarding their teeth. There were also dogs that were too old to be bred, pregnant and some of them too young to be bred, pregnant. They also had congenital diseases, which makes them not reliable for reproduction."[/quote_center]
Litter after litter, these poor animals were forced to reproduce—some never even getting the chance to see sunlight.
While this was certainly not the first instance of such animal maltreatment in the country, it did draw necessary attention to the unfortunate situation.
Addressing the Problem
Like many Latin American countries, Costa Rica seems to be filled with callejeros or street dogs. Although some may in fact have homes to return to at home, it's been estimated that one million dogs are abandoned each year.
What's even more astounding is that despite that number, reports from 2012 showed that there were over 12,000 mills who continued to supply up to 1,000 young dogs each to the tiny country. How is that possible? What can be done to better these dogs' fate?
Putting an End to Maltreatment and Illegal Breeding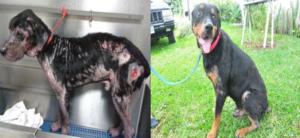 New regulations came into play as of 2014, but following the April atrocities, HSI has worked hard to ensure even better treatment of animals in Costa Rica. Through communication with the National Animal Health Service (SENASA) and the National Association for Animal Protection (ANPA), HSI was able to achieve stricter penalties and clearer laws against illegal dog breeders.
According to Dent:[quote_center]"No animal should be subjected to or forced to live in deplorable conditions as those 64 dogs. We are grateful to SENASA and the National Association for Animal Protection –ANPA for allowing us to collaborate in the seizure of these animals, and we are relieved because soon these dogs will find a loving home. We will continue to support and collaborate with SENASA and other local animal protection organizations to achieve higher levels of animal welfare in Costa Rica."[/quote_center]
And the rescued dogs?
The 64 dogs rescued in April are on their way to a full recovery. Though many arrived anxious and in poor health, HSI says that their personalities are now beginning to shine through during play time outdoors. Soon the dogs will be spayed or neutered and then put up for adoption!
Encouraging people to adopt is the next step of advocacy for HSI. "In puppy mills, animals are bred to be sold, the focus being financial gain and not animal welfare," says the agency. Adoption organizations on the other hand are often non-profit, focusing their time and resources on making sure the animals receive the best care both in their facilities and in their forever homes.
Ready to do your part? Check out the slideshow below to fall in love with some of the rescued pups soon to be released by HSI, or help support future projects by giving monetarily at the HSI website.