Living the Christmas holidays in the tropics is an experience for those of us who usually associate with the cold, the snow, and lit chimneys … In Costa Rica December means that the dry season begins, that is, our summer. It is when courses finish in schools, colleges, and universities. When the football league ends. When most people are thinking about their vacations. And of course, it is also Christmas time. This means that in shopping centers we are going to find a curious mix of typically beach items and Christmas decorations.
It is a bit "shocking" to walk in short sleeves along the Central Avenue of San José taking ice cream, while we are surrounded by images of «Colacho» (Santa Claus), reindeer, sleds, snowflakes, firs, etc. All cities or towns are adorned in these dates, filled with colorful lights, not only on the main streets but also in each house. In some neighborhoods, we can even see ornate decorations such as those usually shown in certain Christmas films set much further north.
The Christmas and New Year parties in Costa Rica are family-oriented and religious focused. There are three most characteristic celebrations: Misa Del Gallo (Mass of the Rooster), the Fiesta Del Zapote and the Tope Nacional in San José.
Costa Rica is a mainly Catholic country that has many families who, after the traditional dinner of roast pork, go to the churches to attend Mass of the Rooster, which is celebrated every year at midnight between the 24th and the 25th (of December).
In San José, Christmas begins on the first days of December with the «Avenidazo»: An afternoon in which Central Avenue is filled with Cimarronas (charangas) costumes, masks, and the traditional dances. White confetti bags are sometimes distributed to look like snow, and it is very fun to see how everyone is throwing it around, enjoying the sensation of watching white flakes fall. Unfortunately recently with the onset of influenza A, it has been suspended for some time.
The Festival of Light
Then after the «Avenidazo», the Festival of Light is celebrated in two of the main San José avenues, a parade with a multitude of floats full of lights, costumes, music bands, acrobatics, and the "Mariscál" (Marshall), a national figure being honored in the parade for his/her achievements. Athletes, singers, journalists and even an astronaut are some of the personalities who have been marshals of this festival recently.
El Niño Dios (the God Child)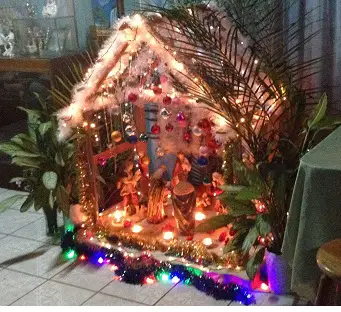 And why there is no Three Wise Man? Well, because this role is played by the «Child God». It is he who, on the night of December 24th, distributes the gifts from house to house, leaving them under the Christmas tree (since this is something that is installed in all the houses). Another decoration that is present in every home is the "Pasito", that is, the nativity scene. With the arrival of Christmas, neighborhoods are filled with "Chinamos" (street stalls) where you can buy all the necessary decorations.
Christmas gastronomy in Costa Rica
The days just before Christmas Eve are also sensed by the stomach. December is the month par excellence of typical native holiday food. "Tamales" are a dish that, with more or fewer variants, is found in almost all of Latin America. They consist of corn dough to which vegetables and meats are added and cooked inside a banana leaf (which is not eaten). They give off a distinct scent while simmering which inevitably is associated.
Another Christmas treat that is enjoyed during the month of December is the Rompope, a kind of homemade liquor from egg yolks, vanilla, cinnamon, milk, sugar, and alcohol. It's frankly awesome.
Zapote Festivities
Zapote is a district of the canton of San José, located east of the city. Here they celebrate the holiday spirit straight from Christmas day until the first week of January. A great bullring is mounted, el rondel Del Zapote, where the "bullfights" and there are also some rodeos American style.  In Costa Rica, the animal is not harmed as in some places in Spain; the bull usually participates in several festivities, so that some of these animals acquire a certain reputation among the crowds. Attendance to these events is massive, in its surroundings the "chinamos" are mounted, fair booths with food and drink, music and dance floors (in Costa Rica practically everyone dances), also carnival-style attractions for the entertainment of young and old.