The American band, Guns N 'Roses, led by the controversial Axl Rose, announced that it will give a concert in Costa Rica. Their debut album "Appetite for Destruction" released in 1987 was the best-selling debut release in US history. Their official website announced that the upcoming tour "Not In This Lifetime" will be appearing at the National Stadium on November 26, 2016. Currently there are no more details about the concert, only that it is part of a Latin American tour in which countries like Peru, Colombia and Brazil are included.
The high squeaky voice of Axl Rose and guitarist Slash's virtuosity contributed to the overall success of the group. But the band, shaken by excesses and strong personal disputes, have not played together since a concert in Buenos Aires in 1993. In December 2015, the hard-rock group thrilled their fans by confirming the meeting of the original members led by Axl Rose, Slash and Duff McKagan. The band's first appearance in decades was at the Coachella Festival last April, and then later, the band announced a tour of the United States and Mexico. This will be the first time Guns N 'Roses will visit Costa Rica since they left the stage in 1987.
With their return, the group is looking to appease their Tico fans for the unexpected cancellation in 2010 of a concert scheduled at the Ricardo Saprissa Stadium in Tibás. The company, 28 Productions, was responsible for the concert but several problems surfaced before the event that resulted in the cancellation. The producer and promoter, Juan Carolos Campos, said the concert was cancelled due to Axl Rose refusing to go on stage before midnight.
Fans will be looking forwarded to hearing Axl Rose, Slash and Duff McKagan playing some of their best known songs from several albums as November Rain, Sweet Child O' Mine, Welcome to the Jungle, Crazy, Patience, Estranged, Paradise City, Don't Cry and many others. To see Guns N 'Roses back in Costa Rica again is a dream many of their Ticos fans have hoped for. Seeing the group on November 26 at the National Stadium with its original lineup has sparked a craze among the fans.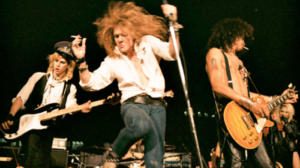 This visit by Guns N 'Roses would mark a milestone in the history of international concerts in the country, having been one of the most important bands in the age of Rock. They were entered in the Rock and Roll Hall of Fame in 2012, and join the list of artists who have sung here such as Katy Perry, Paul McCartney, and Lady Gaga.
The tickets have already gone on sale for both fans in the country and their top followers abroad, a situation that has generated an unexpected surge in ticket sales. Christian Marin, manager of Publiticket's operations for Latin America says that their Tico fans have made a number of these ticket purchases to see this legendary band, but tickets are also available to fans in Central and South America, North America, the Caribbean and Europe. "We are prepared to support this high demand. In addition to the tickets sold, we have had inquiries from people from Asia. There are people from other countries who told us they bought their tickets without even knowing where they had to pick them up," said Marin.
The resulting rush for tickets has even caused several people from Argentina to attempt hacking the Publiticket's site. "That was unfair competition as this caused the server to crash, and then nobody was able to purchase tickets. They had designed a robot to hack our site, but we responded in time," said the operations manager. "This is crazy. More than 200,000 people tried to buy tickets, but not everyone could as they needed a special code. For right now we are issuing ticket sales people with a specific card. Probably those who want to be sure and get their ticket have already bought them" he said. "This may be the last time the band will perform. The show will focus on beautiful Costa Rica, the details with RPMTV (the producer in charge) will be impeccable, and everything is being organized to make it a fabulous show" he concluded.
When should you buy? All American Express cardholders can purchase tickets starting from August 23, and those who have Credomatic cards may do so on August 28. Tickets for other forms of payment (either card or cash) may be purchased from September 5.
Prices to see Guns N' Roses by location are: Economical ¢35,000; Shade ¢55,000; General Section ¢55,000; Preferential Section ¢65,000; Silver ¢75,000 and ¢75,000 Diamond Section.