Gallo Pinto is the favorite dish of Costa Ricans. This is due not only to its delicious flavor but also to the variety of ingredients that go into its preparation and how nutritious it turns out to be.
This incredible traditional dish can be accompanied with tortillas, scrambled eggs, bread, custard and any other companions that you want or you fancy at the time of consumption and preparation. The creativity depends on you.
TIP: Get updates on upcoming Costa Rican Retreats & Events by joining our newsletter. Don't miss out on what's happening around you! Click here.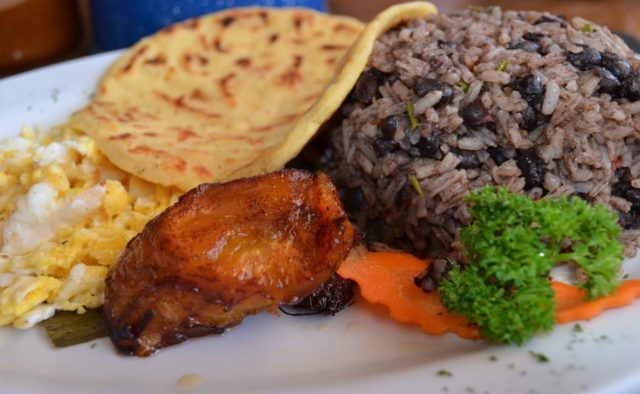 If you want to learn how to prepare the best Gallo Pinto in Costa Rica, then you cannot miss this incredible recipe. And it is very easy to prepare!
Ingredients:
2 cups cooked rice
1 cup cooked black beans
1/2 cup bean broth
1/4 cup finely chopped onions or as you like it
1/4 cup chopped sweet chili or as you like it
1/4 cup chopped coriander
Pepper as you like it.
Preparation of Gallo Pinto (Step by step):
The first thing you should do to prepare this dish is to put oil in a pan and let it heat very well.
Then, you have to fry the onions until it crystallizes. When this happens to add the sweet pepper and let it fry for a while longer.
To continue, add the beans with the broth and some coriander.
Make sure you stir well and leave it until it boils (tightly covered).
Then pour the rice and stir well so that both the rice and the beans are well distributed.
Leave heating until dry and serve hot. Ready! And now, to enjoy it!