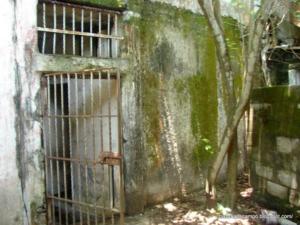 The prison island San Lucas has a dark history as the most brutal prison in Costa Rica. The prison ran between 1873 and 1991 and housed the most notorious and dangerous criminals in Costa Rica, but is now being converted into a tourist destination. Located close to Puntarenas, the area is already a major tourist destination.
The island San Lucas, of 472 acres, is located three kilometers from the coast of Puntarenas, Central Pacific of Costa Rica, and is visited by tourists interested in learning about the history of the prison and the torture and inhumane conditions the inmates faced.
The site is not yet ready to receive visitors, but the work is underway to restore historic buildings that are severely damaged by years of neglect.
The Costa Rican Tourism Institute (ICT) stated that the government hopes to restore the place no later than year and a half, with an investment of $2 million USD.
The future plans calls for reconstruction of the pier and an environmental education center for tourists, sanitation and water treatment plant.
San Lucas is expected to receive a maximum of 800 visitors per day, and thus promote the island as a place of great historical and natural beauty.
The jail began operating under the orders of dictator Tomás Guardia (1831-1882). At first, only political prisoners were sent there, later the country's most violent criminals.
In each of the seven units held up to 70 people sleeping on the floor and they were given only one hour of sunlight a day.
Until 1950, inmates who disobeyed orders were punished were sent to "the hole" and "grilled". It was common to hear them scream and call for help, Montero clarified during a tour of the site.
"The Hole" said the guide, is a hole two meters deep in the common courtyard, which you enter through a small space barely fit one person, but under an enclosure houses nine feet in diameter, where the temperature reached 60 degrees Celsius.
The story of what happened in that prison is found in the novel "The Island of Lonely Men," published in 1972 by the Costa Rican Jose Leon Sanchez, who was imprisoned there between 1950 and 1988.
One of the main attractions of the prison is the hundreds of letters that can be seen on the walls of the cells.
The Wildlife Refuge Isla San Lucas surrounds the prison and there are walking trail through the tropical forest.
The island has indigenous archaeological sites, an enormous biodiversity and lush beaches where there's interest to build resorts.
That initiative was originally rejected by the Government in 2003 to preserve the Wildlife Refuge but now this dark past of the prison recognized and will hopefully become a symbol for the protection of human rights.
EFE
The Costa Rica News (TCRN)
San Jose Costa Rica