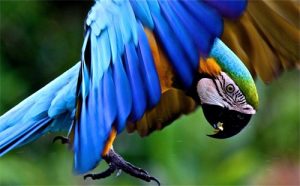 The Government and academic and scientific institutions of Costa Rica will work in the coming months to create a virtual atlas of biodiversity of the country, with extensive information and also contains the richest collection of species of the tropical world.
The National Biodiversity Institute (INBio), nonprofit organization, announced they gave their huge collection of Costa Rican species to the Ministry of Environment and Energy (MINAE), a for the create of an virtual country atlas.
INBio collection, considered the largest living in tropical countries, containing 27,395 species among arachnids, botanicals, insects and fungi, which represent 29% of the known species in Costa Rica.
In this collection, which includes 1.2 million specimens, a total of 3,717 species are new to science and is described as an "extraordinary" collection.
This project aims to become a large database on the biodiversity of the country.
The goal is that people on this site from anywhere in the world can find information about particular species, from its name, to their habits and how they feed.
Furthermore, it can find data about the characteristics of the area inhabited by some species, such as topography, hydrology, climate and, by projection models, determine how it will be affected by climate change.
The goal is to conserve natural heritage and meet the huge challenge of climate change is going to require a great deal of knowledge about the natural heritage of Costa Rica.
For his part, Minister of Environment and Energy of Costa Rica, René Castro, said that the INBio collection is "the world's most important tropical" collection and that it is a legacy that the State will maintain high scientific standards.
Costa Rica is a country of 4.3 million people and 51,100 square kilometers (26% of the territory under protection) that holds 4.5% of the world's biodiversity.
The Costa Rica News (TCRN)
San Jose Costa Rica