La Paz waterfall is located in Vara Blanca de Heredia. It was completely restored after the Cinchona earthquake of 2013, which destroyed roads and communities near the Poas Volcano. We can appreciate the natural beauty of the country's cloud forest, felines, birds, monkeys, amphibians, snakes and orchids during a visit to this special place.
It is a waterfall of extraordinary beauty due to the natural environment in which it is located; there are two smaller falls and a larger one. They can be observed from the road and also from the wooden structure bridge that is considered a work of art. A number of trails and viewpoints have been developed in the area which allows appreciating an extraordinary natural landscape of forest, river, waterfalls, and wildlife. Every fall in this water system has its distinct name, being La Paz, of course, the main one, but there are also, Magia Blanca, El Templo, Escondida, and Encantada.
A natural paradise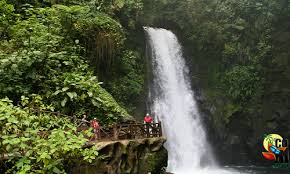 The sound of the waterfalls, the flight of numerous species of hummingbirds, the largest butterfly in Central America and a garden full of orchids are some of the tourist attractions that La Paz waterfall has. With 72 hectares of forest, the average tour for visitors lasts around one hour. There are three and a half kilometers of trails made with cement tiles and with safety railings. In addition to the elderly, there are borders that allow them to make a safe excursion, which is why the destination can be enjoyed by both children and adults. The area is actually a private biological reserve with numerous bird and reptile species dwelling among lush tropical vegetation with a breeze that is simply unique and refreshing.
What to bring along
It is advisable to wear clothes that adjust in the day to the tropical heat but also to the cool early evening temperature. Don't forget to bring the raincoat since the zone rains are very frequent. It is also essential to be equipped with: sunscreen, insect repellents, comfortable but rugged non-slip footwear, of course, do not forget your camera. If you want to snack on the way we suggest you buy strawberries with chocolate and condensed milk that is offered along the road.