As a Minnesota native, I have grown up seeing beautiful stars light up the night sky, reflecting themselves in the thousands of lakes that scatter across the state. This beauty did not prepare me for the incredible experience of kayaking in complete darkness in the Gulf of Nicoya, with bioluminescence illuminating the water like stars in the sky. Each stroke of the paddle seemed to light blue fires beneath me, and as I reached into the water my hand lit up and gave the appearance of an Avatar-like character. This breathtaking adventure is impossible to capture by camera (or in my case GoPro), and without a doubt must be placed on your bucketlist of things to do before you die.
Chemistry
In my attempts to be science-y, I decided to look into bioluminescence and exactly what this phenomenon is. According to National Geographic, bioluminescence is light produced by a chemical reaction within a living organism. Two key chemicals, luciferin and either luciferase or photoprotein are essential in this production of light emitted. Some bioluminescent organisms produce the luciferin on their own- for example, the dinoflagellates produce a blue-green color and their ecosystems are very rare, often found in warm-water lagoons with narrow openings to the sea. In the Gulf of Nicoya, these dinoflagellates are found in abundant numbers, giving the perfect opportunity for a nighttime kayak ride filled with an ocean of stars.
Where to Find
Bioluminescence is found in many parts of the world, however in most locations it is either seasonal or requires perfect conditions in order to occur. San Diego is home to this beautiful occurrence, but only with the perfect water temperature, accurate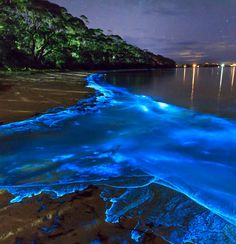 amounts of wind, and a very dark sky, along with several other factors. In Puerto Rico, bioluminescence was present abundantly, but in the past several years its glow has dwindled increasingly. Navarre Beach in Florida sees its occurrence as well, but only in certain warm summer months. This pattern is seen in several parts of the world, hardly ever apparent in all seasons and in all conditions. Contrastingly, the area that I stumbled across when searching for an Airbnb to stay in for a night is home to bioluminescence year round. During red tides, or an event in which estuarine, marine, or freshwater algae accumulates rapidly in the water, the bioluminescence is even stronger, which luckily was occurring when we took our nighttime kayak ride.
Bucketlist Experience
Putting science aside, this experience was completely magical. My fellow intern and I rented a room in an Airbnb with incredible owners who decided to leave their stable lives in Norway in order to pursue their dreams in Costa Rica. Their jungle, treehouse home is set 256 steps from their private beach area, an intense workout for me to say the least. As I sat in one of their many hammocks reading a book next to t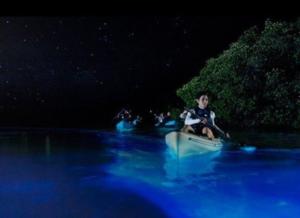 he ocean, howler monkeys crossed from tree to tree above my head, most likely annoyed with my constant picture taking and laughs of excitement. As it grew dark, we stepped into our kayaks and immediately saw the bioluminescence come to life. Each kayak left a stream of these dinoflagellates producing their beautiful blue-green light, and fish below streaked by leaving their own trails. Our guide thought he even spotted a small crocodile at one point, making me a little more hesitant to dip my hands in the water. This incredible tour was peaceful, breathtaking, and one of the coolest things I have ever done. I plan to return to try out another one of the several tours that this wonderful couple offers, and to take another swim with the stars of the ocean.
Find more info on their website on how to check this one off your bucket list!