The Pacific Southern Zone is quite unique in Costa Rica.  There are lots and lots of uninhabited spaces, miles of vibrant rain forests, empty beaches, and quaint local villages.  Plan for unexpected stops for photo opportunities when the scarlet macaws fly overhead, or the white-faced monkeys are crossing the overhead electric lines.  And sometimes emergency stops for animal rescues when you find a sloth in the middle of the road, and needing a hand to get across safely.  The choices of accommodations are just as varied too.
There are a wide range of prices, facilities, and very unique choices.  There are standard hotels, but also all-inclusive resorts, charming cabinas, boutique hotels and B&Bs, fully furnished tree-houses, eco-lodges, yoga retreats and surf camps.  This region has so many choices that you are sure to find one that suits your needs and your wallet.
TIPS TO SAVE MONEY ON ACCOMMODATIONS
May to November is the official rainy season, and offers the best prices. September and October are the cheapest months, but remembering that it is rainy season, most likely to have heavy rains at that time.  For those who live here though, rainy season is their favorite time of year.  There are spectacular sunny mornings, clouding up later in the afternoon, and then snuggle down in the evening when the rains start and you can't even leave the house.  You haven't heard anything quite like a tropical thunderstorm – the rain can hit the roof so hard that you can't even have a conversation, talk on the phone, or watch a movie on TV.  So best to simply sit out on the deck and enjoy the light show.

Are you able to be flexible, and skilled at bargaining? Rainy season can offer some great deals as many types of accommodations are willing to lower their prices from their already low-season rates just to get someone in their rooms.  So if you are willing to be flexible, confident with bargaining, and adventuresome, try not booking ahead and see where the road takes you that night.
There are a growing number of rentals through AirBnB and VRBO bookings. More and more private accommodations are starting to open their homes to paying visitors.  This can be a fantastic way to really experience life in Costa Rica as you can visit with the expats who live here, and be entertained for hours with their amazing stories of life in the rain forest.  Being local, they can answer most of your questions about what to see and do, and maybe even share some of the hidden gems only the locals know about.  The prices for these rentals are much cheaper for those visiting longer than a standard hotel or resort would be.
Use social media to your advantage. Take the time before you arrive to do some research on what type of accommodations you do like.  Check out their websites, browse through their photo gallery, read their reviews, and be sure to Like them on their Facebook page.  Many of these businesses offer Specials and Promotions exclusively through their Facebook page.
TIPS ON HOW TO AVOID PROBLEMS
Check reviews on Trip Advisor. Reading what others have to say about their visit, their accommodations, the food served, the warmth of your hosts, and the highlights of their visit go a really long way at helping you decide what is the best choice for you.  You can learn so much about a spot you are considering from their reviews – the good, the bad, and the ugly.  Hopefully more of the first, and very little of the other two though.
While most accommodations do have a website, many of these don't have a great website. Many of the local cabinas and hotels are small, family owned and operated, and are primarily focused on keeping their guests happy.  The skills needed to design and maintain an effective and efficient website is not a great priority for them.  This is one of the aspects of  what makes life in Costa Rica so different – the local Ticos (their own nickname) are more concerned with the quality of life rather than creating a booming business.  So their websites are often very basic, and often not able to take your booking online as they are not designed to accept credit cards.
Use a hotel booking site to make it easier. Usually these sites have more useful and important information you need to know when making your decision on booking.  They are also easier to navigate to get the answers you need.  They allow you to book online, and use your credit card to confirm the bookings.
OPTIONS IN THE SOUTHERN ZONE
First thing you need to know is that this region is not like Cancun or Puerto Vallarta, or even like Guanacaste in northern Costa Rica.  This region does not have any of those multi-storied blocks of rooms overlooking a large pool with a swim-up bar. Not one.  And to tell you the truth – the locals like it that way!
Range of Accommodations
This region offers unique little boutique hotels with beautiful architectural design features, stunning ocean-views, beach-front decks to watch the sunset, and scrumptious meals at cozy in-house restaurants.  They often have regular visits from traveling troops of white-faced monkeys as they pass through on their foraging expeditions.  Some of these accommodations are very moderately priced for the price-conscious traveler, and some offer full-service packages for honeymooners.  Some of the hotels even have their own Spa with a range of massage and facial treatments to make your holiday even more relaxing.
Inclusive Resorts on the Osa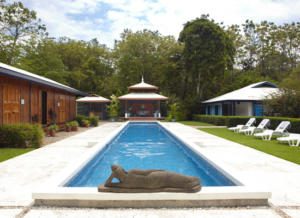 The Osa Peninsula is at the bottom corner of Costa Rica, just before you cross over to Panama.  This is where the Corcovado National Park is located, and is considered one of the top parks in the world by National Geographic – and they should know.  For many, the joke is that the Osa is at the end of the road, but the beginning of the adventure.  It is a truly unique and extraordinary location.  And this is where you can find the only all-inclusive resorts in this region, and each of these types of accommodations is quite unique.  You can drive to the Osa Peninsula, but understand that means roads that are not well-serviced during rainy season.  So allow for more time than you would ever expect to get anywhere.  And get VERY clear directions on how to find the resort as there aren't have any local 7-11 or gas station to stop and ask for directions.  Or you can land at the San Jose International Airport, and simply walk your bags next door (or actually down the road a short 10 minute walk) to the national airport.  There you can take a short flight straight down to Puerto Jimenez which is the entry point, and your resort will come to pick you up and take you out to their location.
Private Rentals through AirBnB or VRBO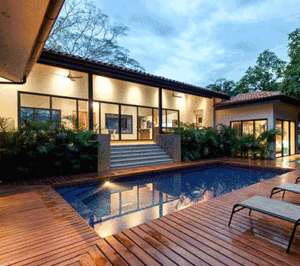 When you are considering a longer stay and staying at a hotel can really add to the costs of your visit, consider staying with a local expat who is opening their home to paying visitors.  Or if you have a large group, and want to be all together rather than spread out in different rooms at a hotel.  Or if you have kids, and want to enjoy your holiday in more homey and relaxed accommodations.   Staying with someone who knows the area will help to open the doors to adventures you may not even have thought of before you left.  But it is important to do your research carefully before booking your stay so you are fully prepared on the pros and cons of that particular location.  For there will be both of those they may not mention on the website.  Be sure to get a local contact number for emergencies, or problems with the toilet, or you need something you can't find.
Cabinas – a true home away from home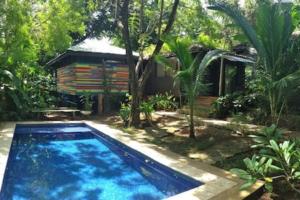 The region offers a wide range of choices in cabina rentals from rustic cabins nestled deep in the rain forest, or open-air concepts sitting right on a river bank, some are right on the beachfront with a lovely deck to watch the sunsets each night, and some are sitting high on a mountain ridge where you can see the full scope of the ocean below you.  This type of accommodations is for those who are comfortable being more independent, self-sufficient making your own meals, cleaning up the unit, and likes more solitude.  It is important that you get VERY clear directions though, and be sure to ask about the quality of the road into their location.
Surf Camps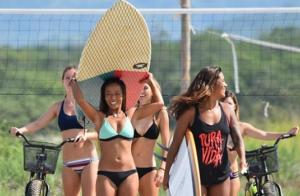 If you are a surfer or would love to try surfing, the Southern Zone is world famous for its quality of surf.  Which means that there is a wide variety of businesses supporting surfing.  Surf camps where you can start as a beginner and leave as a surfer, or programs designed for those hard-core surfers who want to surf where the locals know the sweet spots.  These programs will also include excursions, tours, and even Spanish classes if you like.  Come and experience what it can feel like when you 'are in the zone', and a pod of dolphins come out to surf alongside you.
Wellness and Yoga Retreats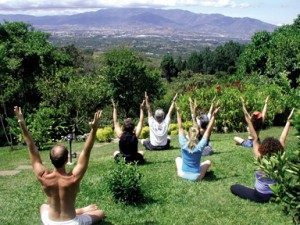 This region is now starting to develop some outstanding retreat centers with a wide variety of themes to improve your health, your wellness, your well-being, or improve your yoga poses.  They offer organic meals, other excursions and tours, and sometimes volunteer projects in the local communities if you want to get more involved.  All this while you are resting, refreshing, and recharging your batteries again.  Come and experience the energy of living in the middle of a rain forest – a living, breathing organism that surrounds you with vitality and life.  You will be serenaded at night by the bell frogs, woken in the morning to the raucous birds as they sing Good Morning, and spiritually refreshed by this time nestled in nature.
LOCATION, LOCATION, LOCATION
What type of accommodations you choose will greatly affect what kind of a holiday you have. And that will be greatly determined by the location.  For such a small region, it is amazing what a range of climates and geographical diversity you can find.  Which then affects the temperature.  So if you like it hot and steamy, then you would be really happy with accommodations close to the beach. But if humidity is uncomfortable, then you would be happiest with a location that is just up the mountain.  It is really surprising how quickly the temperatures and the humidity can change just going a few hundred meters up the mountain.  During the rainy season, it even gets cool enough that you would appreciate packing a sweater and long pants to stay warm enough.
Be sure to check out our other posts for more information on how to plan your trip and budget.
For more tips and deals Contact Us, and we'll hook you up!