A Costa wedding gives every couple a chance to experience the beauty of Central America. A land of beauty and abundance, it's bio-diversified and boasts stunning natural landscapes. It features dreamy wedding venue styles that bring flexibility to the wedding ceremony script.
With its cascading waterfalls, lush jungles, pristine beaches, exotic fruits and cuisine, Misty mountains and rumbling volcanoes. This place is nature untouched and a fascinating wedding destination.
TIP: Get updates on upcoming Costa Rican Retreats & Events by joining our newsletter. Don't miss out on what's happening around you! Click here.
So whether you a private wedding, something chic and rustic, exotic, intimate or huge, Costa Rica got you. And to narrow your search, we've rounded off the best 7 places to get married in Costa Rica.
Arenal Nayara Resort Spa and Garden
Arenal Nayara is one of the most luxurious venues to have a wedding in Costa Rica. Touted as one of most romantic getaway spots, it's located in the northern lowlands of Costa Rica. Sitting on the perfect land, it is close to the Arenal valley and overlooks the Arenal volcano. This 4.5 stars resort is everything you need for a tropical wedding and maximum relaxation. It has some of the best Costa Rica wedding packages in Central America.
This adventurous jungle location is one of the best Costa Rica wedding resorts to get married. This is also a great place to honeymoon because of the privacy, adventure and exclusivity it offers. It is intimate and overlooks the deep blue Pacific waters of Costa Rica's Osa peninsula. Copa de Árbol has 11 cabins and the only resort within that region to have air-conditioned rooms. Again, each cabin interior design differs and there are no televisions. It becomes a perfect place for unwinding. Sitting on 70 acres of lands between Drake Bay and Corcovado National Park, it's the beach and rainforest resort to be.
Looking for Costa Rica wedding venues to give you the ultimate Costa Rican experience? This Auberge resort is everything and more. Sitting on hundreds of acres, it boasts outdoor terraces, poolside deck, open-air grand ball, ceremony and rehearsal venues, etc. It's a very rural equestrian resort that gives a stunning view of the rolling hills. The dense tree canopy adds to its ethereal beauty. Watch the sunset over the Pacific and enjoy a farm to table meals. And when you're done, go sightseeing in the nearby Boruca Village.
With a hotel, restaurant, bar, and amphitheater under one roof, this place ranks at 5 stars. Villa Caletas is a luxury boutique beach and mountain hotel. It's perfect for any couple who wants a Costa Rica beach wedding. Located in an ultra-lush jungle, it boasts of its own private beach. More is the edgy cliffs, excellent pacific view and infinity pool. This upscale hotel stands at a whooping 1150ft over the Central Pacific coast and rainforest. If you're having a luxury sophisticated wedding in Costa Rica, this is the place to go.
Named a couple's paradise, Si Como No is a special Manuel Antonio resort and wildlife refuge. This beach hotel sits on one of the most idyllic hillsides. It has lush jungle terraces, exotic gardens which binds you with the scents of tropical flowers and breathtaking butterflies. These gardens overlook the ocean above Manuel Antonio Park. It sits on 10 acres and boasts 58 rooms. It also has an adjacent atrium and the bulk of gardens are botanical. This is the perfect place for an intimate low key wedding and honeymoon getaway.
If you're looking for an eco-friendly resort, here is the place to be. This place is everything your rustic dream wedding is made of. It's located in Monteverde featuring lush green natural surroundings and cloud forest. It sits on 9 acres with a sustainable organic garden, a nature reserve, and a private waterfall. This resort is 3 stars and a home away from home as it's family-owned. For some adventure, hike through the beautiful trails of the nearby Curi-Cancha wildlife refuge.
For the perfect Costa Rica all-inclusive wedding, this is the place to be. This intimate spot boasts a meal-inclusive style. It's located on the hillside of Playas del Coco, in Papagayo, Guanacaste. It's a mild boutique hotel with 8 rooms and 12 staff. It can hold 80 guests and 23 sleeping guests. It's also private and exclusive that you can rent out the whole villa for your wedding. They offer a personalized service, helping couples plan their weddings to the last detail. It is close to the Coco beach, Costa Rican tropical rain forest, golf course, and national parks.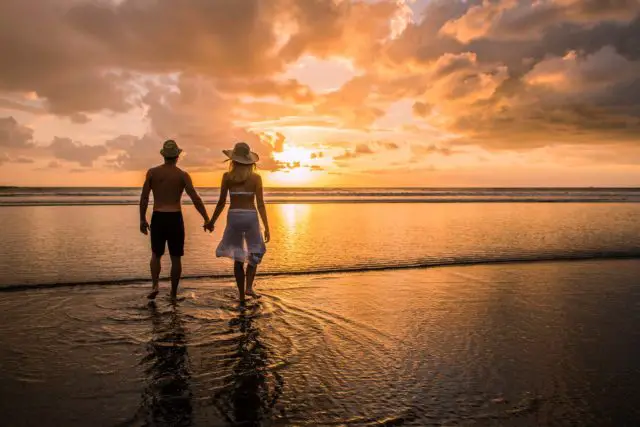 To get the best of Central America for your Costa Rica wedding, check out these 7 resorts for some inspiration.