Silence
We are all silent for a long time. The fire is fed. Space holders walk people to the bathroom. Hecka circles the group to see if anyone needs attention. Challenges are easier to witness than the beauty that takes place silently. The Future Guru is having a beautiful journey as seen by a smile on face, teeth are presented from ear to ear. Others lay down silently, eyes closed, on this planet or another. Breathing in and breathing out, other worldly adventures are taken individually.
Stillness is then broken by a sweeping motion across a guitar. As the music builds, the initiated slowly sit up one at a time at the edge of their mat. The firekeeper drums while pacing around the fire. A space holder dances in the doorway. The Future Guru stands and holds his palms up to the sky with a smile spread across his face. The light of the sun dims brighter and brighter through the door and light rays magically shoot across the top of the Usure. We made it. Each person makes eye contact with another sharing an expression of love and an acknowledged "Wow!"

Forgiveness Demonstration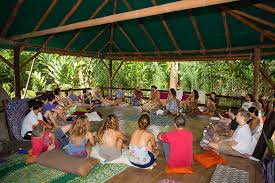 The morning after the ceremony, the Shaman explains that we are going to perform a Forgiveness Demonstration. Forgiveness of oneself and forgiveness of others is a strong and common phenomenon of Grandmother Ayahuasca. I am excited about the demonstration!
Previously in the night, Hecka told the story of the Corn and related each color of corn to a group of people, a story of the origin of cultures.
Trying to be thoughtful of using labels correctly, and with a group of people who may want to shed labels, I will use the demographics of the corn. Our group consisted of: 4 Red people, 5 black people, 4 white people, and 0 yellow people. The Shaman explained that The Comedian, a white corn, is going to symbolically wash the feet of the people of black corn decent.
As I listen to the details of the Forgiveness Demonstration, that I previously was excited about, I tense up and look at the face of the other participants to gauge their feelings, 'Are they okay with this?!?!' I looked at The Statue, his face was like a cold stone, 'Oh no! He is going to hate this!' I felt my concern as a knot in my stomach. I looked at The Warrior Goddess, Tears are streaming down her face and as the Shaman asks the group if they would like to participate, she was the only who answered with a head nod, through tears, "Yes, Yes".
The Warrior seems to love the idea. The Statue seems to dislike the idea. And everyone else seems undecided. The scene is set and The Statue goes first. The feet washer from Serbia living in the USA for over a decade shows respect and humor throughout the demonstration. The space holders are still unsure of the feelings the participants have.

When it was done, The Statue spoke first about the Forgiveness Demonstration. I am cringing at what he may say. The Statue has the most complicated visual transparency cues. His demeanor and facial expressions incorrectly reveal a man that does not agree, understands but does not like, or thinks they must be out of their mind.
At this moment, I have not yet learned this lesson and the face shows torture. Luckily, as he speaks, I learn his look is not an authentic picture of his thoughts and feelings. "I just felt three to four hundred years of pain get washed away".

I breath out for what felt like the first time in 30 minutes. Relief came over me and for the first time I more sincerely understood what Ancestral Healing meant. To witness and feel a symbolic forgiveness from one culture to another was impactful and hopeful.
This demonstration was such a risk on the part of the Shaman that became a profound and beautiful expression for everyone to experience and witness. After the sharing of each person, I believe I heard a collective, "Phew" symbolizing that it was heavy and we are ready to continue with the morning, the day, the year, the life.

The Morning After
Hecka cleanses our spirit by swiping dried palm leaves across our skin, with Florida water sprayed onto our back and chest, and with incense drifting around our bodies. Hecka chants and makes animal noises, mostly jaguar and what sounds like warthog snorts. The Son watches as his Mom accepts her cleansing with closed eyes. I knew the minute I met them that the Mom was fully aware that she has a special son. I wondered if the son knew how special his Mom is and how lucky he is to have been born to her, and at this moment, I see that he does.

For some, the night may have felt like a couple of hours, for others a couple of days, but we are all refreshed as we exit the dark womb of the Usure and enter the warm Costa Rica morning. Howler monkeys give us a concert during the cleansing and now we all look up to see their tribe among the trees. We recognize their tribe and we recognize our own. We are still smiling at each other with few words, just the facial expression acknowledging each other's eye- and, heart-opening discoveries.
Over freshly cut coconuts, pineapple, and bananas, we sit down around the outdoor fire. Terra's love for people, animals, nature easily pours out her lips as she welcomes everyone to the new day centering our heart to share with the group. "I spoke with God all through the night, I asked him questions and she gave me clear answers, I toggle back and forth between he and she because those are the pronouns we are given in the English language but God is neither, God IS funny, though, so funny".

We all lean in, wide-eyed to hear The Mom's incredible experience. "Throughout the night, whenever I needed something or someone, it was there. Every time I needed to go the restroom, a guide appeared". As a space holder with a sense of humor, I think to myself this is not the Ayahuasca nor God. It's our service to the group.
When we see someone stand up and walk to the opening of the Usure, we get up and offer help to walk participants through the dark, in their hallucinatory state, with a hand if needed to the bathroom. So, of course, when she needed a guide, she got one. But then she continued, "Then one time, no guides showed up". Also, with a sense of humor, I think, 'Whoops, we were supposed to be there.' I forgive myself because I know everyone, even in the full effect of the medicine, is capable of making it to the bathroom and she received the challenge of doing it alone.So, I smile and listen to how she did it by herself. "I stood outside the Usure and in my conversation said to God, 'No one is here to help me, I am going to get lost,' And God replied to me, 'You don't need anyone else.' 'But I won't be able to find it, I don't know where the bathroom is.' God comforted me, 'I will show you the way, I am here.' Step by step, I made it directly to the bathroom, I wasn't alone, God was with me the whole night".


I smiled and shook my head at my previous thoughts of her thinking it was God who provided a space holder every time she needed the bathroom. Of her making it to the bathroom alone.  She had her experience and intuition, confidence, and a different kind of Guide. Perhaps it was God who provided her with a physical guide and perhaps it was also God who led her directly.

The Statue, standing like Greek marble in white pants and an open white, cotton vest expresses the cleansing process of the entire experience. "I feel propelled to go deeper in the medicine path and extend my training in the jungles of Central and South America". He spoke of his Mother always being so hard on him and feeling the unfairness of her being so protective of, and kinder to, his younger brother. "She would tell me every day, 'Go figure it out.' And I felt alone with my problems in the world. I was looking for the loving embrace of another Mother Figure in Ayahuasca. As I called out to her with questions, my response from her was also, 'Go figure it out' ".


He moved forward, not alone but with a cryptic teacher showing him a psychedelic puzzle for him to go figure out. We all give a sympathetic laugh. He became a man and was introduced to the unfairness of the world at a young age. The irony that Mother Ayahuasca gave him the same response as his own Mother was exasperating…but humorous. 'Really, Aya, you couldn't give him a break?!' Of course not. Inside and out, The Statue is strong and he didn't need a break. He came to get what he needed, not what he wanted.

The Blesser had a rough night and because of her tenacity through the whole retreat, her vulnerability to ask, "Will you stay with me?" before Kambo, and her strength to keep trying, she holds a special place in all our hearts. Like a bird who hits a window, we listen with hopes that she has something to say besides her obvious struggle, and continues to fly. When she got knocked down, she moved to her hands and knees and crawled, until she was able to stand on wobbly feet, until she was able to walk, and next she is running, Flying!
"My experience was humbling. The greatest lesson was to trust myself, and this isn't the first time I have been slapped in the face by this lesson. It's been told, a lesson will repeat itself until it is learned", she continues with a laugh, "this was repetition". She explains her disappointment in throwing up the medicine too quickly and her belief that it wasn't in her stomach long enough to process.
After fighting and trying so hard, her original intention, whatever is was, had to be let go of and replaced with, "I am here to listen, surrender, and trust". "And once I did this, my arms and legs turned into twisted trees". As she expresses this vision, she looks at her arms and legs, her trunks. The medicine was in her body, it was just teaching her the first lesson. "For me context is important and if I feel something, whether it seems 'good or bad,' I get to trust it, I'm intuitive and I sometimes forget that and think myself in/out of a situation, when I listen to my guidance, I avoid needless suffering".

Hecka listens to the translations of everyone's story. He has a delayed smiled, a delayed laugh, then offers comments or advice followed by gratitude for sharing and showing up. Every person has something to say. Everyone's cup is overflowing. Overflowing from an insightful night, a mind blown by the capabilities of Ayahuasca, and the love we feel from each other.
This is unusual…Not everyone has such an experience on their first sitting with the plants. The Gnosis Journey team is beyond elated that every person here has an awakening, a new purpose or perspective, or a revolutionary psychedelic experience that will give them a new view of the world. One-on-one conversations begin over our fruit under the palm trees and jungle surroundings, space holders set up for Kambo, The Mom agrees that she and her son will have a DMT journey. Still so much to come.

The Future Guru grabs a guitar and begins a soft, melodic song, "I give thanks to this love that you've given me. Life is like an ocean and I've got no worry. Sailing through the ocean and the forbidden sea, chasin' the sun and it's got me…"
Remain Present and Conscious of Mother Earth