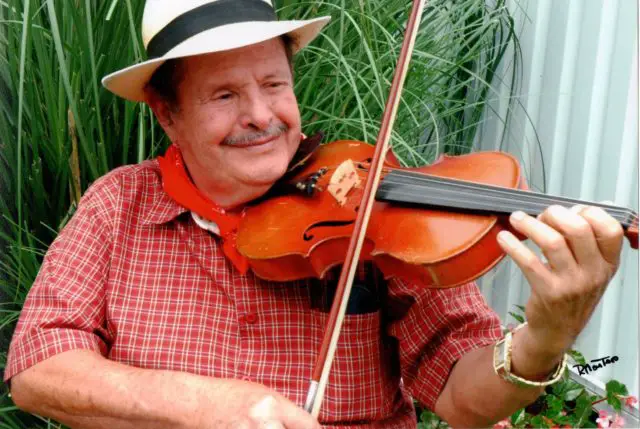 Possibly San Roque de Naranjo must have been a small town of gentle peasants, at the beginning of the 1930s. There, surrounded by coffee plantations and in full reaping of that fruit, with a December of Christmas spirits, a child who in the faith of Christian baptism was named Lorenzo Salazar Morales came to the world.
Costa Rica did not know, at that time, that the village of San Roque de Naranjo was contributing to the country one of its most famous patriots, an exemplary Costa Rican, a teacher, a researcher of our culture, a musician, a folklorist, is to say, a worthy representative of the traditional Costa Rican popular culture that, years later, would stop being Lorenzo Salazar to become Lencho Salazar, the Lencho of Costa Rica, Lencho of all and everyone. He is a folklorist, humorist, multi-instrumentalist, composer, and
Teacher of Costa Rican music.
He is currently the most important figure of the typical Costa Rican humorous song. In them, is collected legends and popular traditions of the Costa Rican culture, expressed in a colloquial language. In 1996, the Ministry of Culture and Youth of Costa Rica declared him a member of the Gallery of Popular Culture of Costa Rica.
True to the oral tradition of our grandparent's stories, is his first song composed in 1959, La Segua. In San Roque de Naranjo, in the home of Víctor Salazar Jiménez, a harmonica performer, or Pito, as he was known in those years, and Elisa Morales Corrales, poet, was born on December 4, 1931, the youngest of the seven children Salazar Morales.
Married 2 times, with Mrs. Margarita Porras he had 6 children and with Mrs. Nidia Morales a daughter. At six, at the República de Cuba School, he began his brilliant artistic career with his guitar. Teachers liked to sing in assemblies and evenings, as well as in rosaries, masses and family activities. The priest of the place paid him, music classes, with the Teacher Isaac González.
Don Lorenzo Salazar served as a music teacher in different communities in the country: San Ramón, Escazú, and San Carlos.
When Mr. Guillermo Malavassi, was Minister of Education (1966 – 1970), he graduated as a music teacher and worked at the Castella Conservatory. Later after the retirement of the renowned Costa Rican violinist José Aurelio Castillo Jiménez (1924-1999) he takes his place at the Normal Superior School of Heredia, under the direction of Francisco Quesada.
He retires as a teacher at the National University of Heredia and the Castella Conservatory. His life dedicated to musical creation has earned him the rank of member of the Gallery of Popular Culture of Costa Rica, granted by the Ministry of Culture, Youth, and Sports, in 1996.
He can play all kinds of musical instruments such as violin, accordion, guitar, quijongo, mandolin, and trumpet. He has recorded two CD'S, Idiay Lencho, and the Himno Del Guaro. He also has compositions such as La Segua, Adentro Lencho, Rancho de Lencho, Abuelo Lencho recollection of 14 compositions by national authors, especially by Don Mario Chacón. His songs try to collect legends and popular traditions and collect the language and meaning of the Costa Rican people.
In 1953, he joined the Costa Rica Trio (along with Paulino and Miguel Porras Hidalgo) that was presented in San Carlos and its surroundings. Four years later (1957) he joined Los Talolingas (sharing experiences with Masters Antonio and Roberto Gutiérrez Vargas).
In the early 1970s, Salazar instructed the group of folk dances of the Costa Rican Tourism Institute (with the collaboration of José Córdoba and Antonio Meléndez) and was granted recognition of being the Costa Rican cultural ambassador in the United States, Colombia, Ecuador, and Panama.
In his extensive artistic career, "Lencho" felt privileged to share the stage with Fernando Fernández (his children's idol), Olegario Mena and Carmen Granados.
As a young musician he was hired for ₡ 100 to liven up a marriage, and among the guests was Teodoro Rubens (manager of the INDICA record label) and when he heard him then a few weeks later, with guitar and accordion in his hands he was invited to enter a studio recording.
When Don Lorenzo Salazar was about to record "Idiay Lencho" (in 1965), his friend Miguel Salguero asked him, what is your artistic name? I don't have any, replied the musician. And Salguero replied: How did they tell you as a kid? He replied: "Lencho" – short and easy to remember – and so it was for posterity.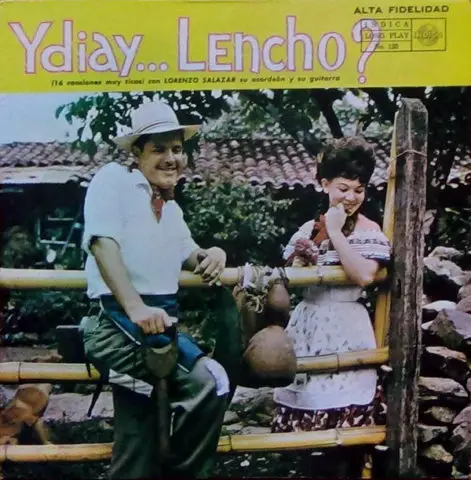 Don Lencho's songs absorbed the popular language of the peasant, the "maisero" and the Costa Rican day laborer. He rescued the story of national traditions and legends. Among the many productions of "Lencho" Salazar we can mention:
• "Idiay… Lencho!",
• "Quiubo Lencho?",
• "Inside Lencho!",
• "Soque Lencho!",
• "Typical organ",
• "El rancho e 'Lencho",
• "Grandpa Lencho",
• " Bailes de Costa Rican"
• "Costa Rica Mía"
In the year 2001, he won the "Reca Mora" Award, granted by the Association of Composers and Authors of Costa Rica (ACAM) for a lifetime dedicated to artistic work.
In 2003, he obtained the recognition Cadena Mayor by the former First Lady, Leila Rodríguez de Pacheco.
Several national musicians with the support of ACAM published the album: "Lencho Adentro: That's how they sing to you today" (2007).
For his outstanding career, the Board of Directors of ACAM (Period 2008 – 2011), decided to call their Session Hall: Lorenzo "Lencho" Salazar, since July 30, 2008.