Henriette Jacobsen, TheCostaRicaNews.com
Many of us have been wondering about it as we shop in our local super markets. Now the World Bank has confirmed our suspicion. Food prices have indeed gone up over the past year.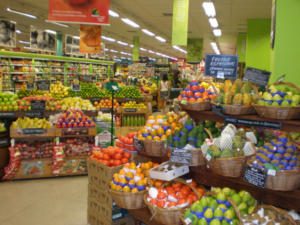 The latest edition of the World Bank's Food Price Watch shows that the prices on food in Costa Rica rose 6% from December 2009 to December 2010. The year before the food prices also rose by 5%. This means, according to the World Bank, that we are heading towards the 2008 peak where prices skyrocketed to their highest level in 30 years. However, the average price for wheat in Costa Rica fell 15% over the last year. According to the World Bank's food price index, the wheat price rose globally almost 70%, the price for maize increased 74%, sugar became 21% more expensive, and the popular Costa Rican export, bananas, became 23% more pricey.
Food prices have soared due to a combination of severe weather events in key grain exporting countries, the increasing use for biofuel production, export restrictions, and low global stocks. The food price hike is also linked to surging fuel prices. Crude oil increased 21% in the first quarter of 2011 as a result of unrest in North Africa and the Middle East.
As a result of the higher food prices, the World Bank estimates than an additional 44 million people have come below the $1,25 dollar extreme poverty line since June 2010. A further 10% increase in food prices could lead to 10 million people falling into poverty, and a 30% increase could increase poverty by 34 million people.
"More poor people are suffering and more people could become poor because of high and volatile food prices. We have to put food first and protect the poor and vulnerable, who spend most of their money on food," World Bank Group President Robert B. Zoellick said in a press release.
The Food and Agriculture Organization of the United Nations (FAO) will hold a seminar in Tunisia from May 2-4 to address the high food prices. The FAO event's purpose is to allow decision-makers from government ministries (agriculture, trade and finance) to exchange experiences from the 2008 food price crisis and become better acquainted with various policy measures.