The Republic of Costa Rica, with its lush rainforests, imposing volcanoes, paradisiacal beaches, and incredible biodiversity is always a great place to visit. Bathed by the Caribbean Sea and the Pacific Ocean, this country has opted for ecotourism with strength, and nothing more than to set foot here and understand why.
Here are some of the best places to visit when coming to Costa Rica:
TIP: Get updates on upcoming Costa Rican Retreats & Events by joining our newsletter. Don't miss out on what's happening around you! Click here.
Manuel Antonio National Park
It is one of the best known natural parks. Located in the province of Puntarenas, it's heavenly beaches, its air of relaxation and vegetation and its fauna means that everyone who enters does not want to leave. That is, be careful with the animals because it is very likely that when you say goodbye to the monkeys they will steal your food! But that's part of the adventure!
Monteverde Cloud Forest
This type of forest is one of the few that still exists in the world and also one of the best known internationally for scientific research. It is located in the Sierra de Tilaran and approximately 10% of its flora and fauna are endemic. The town of Santa Elena has numerous hotels and restaurants, as well as a wide range of adventure and recreational activities, including a new one that involves climbing trees with rappel-style ropes.
Tortuguero canals
They represent the second-largest wetland in the country and is considered by many visitors "the Amazon of Costa Rica" for its natural wealth and great biodiversity. It is located in the northern area of the Costa Rican Caribbean and can only be accessed by boat or plane.
Puerto Viejo
In the Caribbean area, this town is identified by its cultural wealth full of Afro-descendant and indigenous nuances, and that form a unique mix in the country. Its gastronomy, music, and customs make this area a wonderful attraction for enchanted visitors while enjoying the sun and the rain forest that reaches the seashore.
Irazú Volcano
Located in the central volcanic mountain range, 31 kilometers from the town of Cartago, Irazú is an amazing volcano, the highest in the country reaching 3,432 meters above sea level. Its name has an indigenous origin (Istaru) which means a hill of trembling and thunder.
Arenal Volcano and La Fortuna
La Fortuna is a town located in the northern plains, home of the majestic Arenal volcano and one of the most beautiful places in Costa Rica for its natural geological richness. It has a wide tourist offers. Its hot springs from the Arenal Volcano are rich in minerals associated with well-being treatments.
Corcovado National Park
Located north of the Osa Peninsula, is Corcovado National Park and Drake Bay. It is one of the sites with less tourist flow but with a wonderful and unique natural and archaeological wealth in the country. Corcovado is considered a site with the highest concentration of species of flora and fauna in the country, becoming a mega biodiverse area, which is why it is also known as the country's biggest zoo.
Guanacaste beaches
The province of Guanacaste houses dozens of beautiful beaches in its 200 kilometers of Pacific Coast, some of them internationally recognized for their beauty and activities they such as snorkeling, diving, sailing trips, among others.
Poas Volcano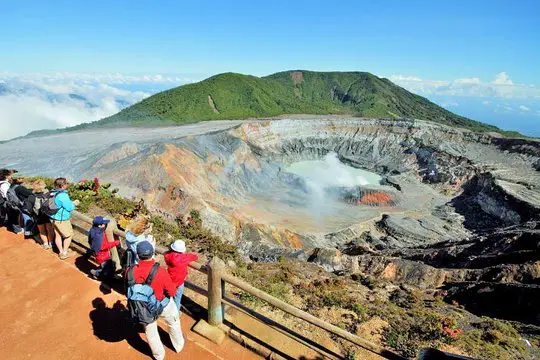 It is located in the central volcanic mountain range, about 2700 meters above sea level. This volcano has long been one of the most visited places in the country. Both because of its proximity to the central valley and because it boasts one of the largest geyser craters in the world.
San Gerardo de Dota
Both the province and the town of San Gerardo de Dota belong to the area of Los Santos, recognized by the very high quality of their coffee and its particularly beautiful landscapes.