No matter when you choose to visit Costa Rica, the weather will always be hot.  But in the dry season, from December to March or April, that means really hot.  The diversity of weather in such a small country is quite stunning, which does make it a challenge to know what to pack for your trip.  In fact, there are 23 climate zones in San Jose alone, and an even greater range of climate zones throughout the country.  Weather near the beach will be the hottest, while weather in the mountains can still be refreshing.
TIP: Get updates on upcoming Costa Rican Retreats & Events by joining our newsletter. Don't miss out on what's happening around you! Click here.
So hot that once you get off the plane in San Jose, you will be shocked with how hot it can be.  So best to be prepared for arrival.  Plan ahead and pack some clothes to change into upon arrival.  Best to pack some shorts and flip flops into your carry-on bag so you are ready for the gorgeous weather as soon as you stop out from the airport.
DRY SEASON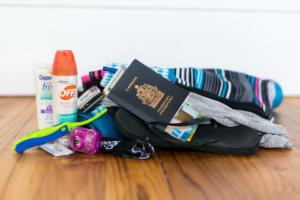 Dry season means hot weather – really hot weather.  What tourists may not realize is that Costa Rica is located 9 degrees from the equator.  Even tourists who live in hot climates at home are not prepared for how hot it can be here.  So even if you live in Texas or Florida and think you are used to hot weather, blazing sun, and unexpected rain showers, be prepared to get sun burnt if you are not fully protected.
What to Pack to be Prepared
Sun screen – an SPF factor of 30 is mandatory, and applied every 2 hours – especially if you are doing outdoor or water sports.
SPF clothing for those active tourists who want to go white-water rafting, sport-fishing, hiking, and simply walking on the amazing beaches.
SPF blanket for babies

and little ones

to keep them protected.
Visor or wide-brimmed hat. A visor will give you protection for your face, and is easy to pack.  But a squishable hat with a brim to protect the back of your neck is even better.
Beach Tote/Dry Bag – water resistant for those adventurous tours like kayaking or rafting. A zipper at the top to keep out clutching fingers, and lots of pockets to help stay organized.  Best to include some zip-lock bags or small totes for inside the Tote to pack those creams and lotions, and be protected from any unexpected accidents that leave a slimy mess in your bag.
Beach Towel – these are not provided by hotels. So best to pack your own.  But these can be big, heavy, take a lot of space in your luggage, take longer to dry, and hold an amazing amount of sand when you head home from the beach.  So consider buying one when you get here.  Just know that these are not very high quality.  Consider buying one here, and then donating it to your hotel maid when you leave.
Microfiber Towel – this one is easy to pack, takes little space, is light-weight, dries quickly, and comes in all sizes even as big as a beach towel.
Sarongs – you may have one of these from another tropical holiday, or simply buy a new one once you are here. Or maybe even buy more than one – there are hundreds of choices found at most tourist areas.  And they are so versatile and can be used for so many uses …

Beach towel or blanket – great as they don't hold sand and dry easily
Cover Up – protection from the sun
Cool Evenings – great to keep the chill off your shoulders in the evenings
Dress Up – simple way to jazz up an outfit to go out in the evening
Just In Case – the local offices, banks, or grocery stores are surprisingly cold
Wet Wipes – great to clean up from the surf and sand when leaving the beach.
Baby Powder – another way to clean up after a day at the beach.
Sunglasses – with SPF protection to protect from the glare. It is best to pack more than one pair though.  It is so easy to lose a pair on that rafting trip, and then buying a new pair here can be expensive.
Insulated Water Bottle – the large size as you want to drink water constantly during the day to protect from dehydration. Simply buying a cold bottle of water at the store is not a great idea anymore as we are learning how hazardous plastic bottles are when they get heated, and then release toxins into the water you drink.  As well as copious amounts of water throughout the day, you will want to eat much more salt to replace all that you lost while sweating on that beach walk, horse-back ride, or nature hike.  And lots of bananas to replace the potassium lost during sweating.  If you deplete your potassium levels, you can then be prone to muscle cramps.
Zip Lock Bags – to store the important documents, electronic devices, and lotions you carry around each day. Also really useful to store those wet things when you leave the beach.
After Sun Care – aloe gel is vital to soothe and replenish the skin after a day in the sun. And if you did get a sunburn, then a simple remedy is black tea.  Not to drink it though.  Add a few bags to a big glass of cold water, and allow the bags to soak until the water is black.  Then get in the shower for it will make a mess, and use the tea bags to apply to the affected areas.  It will dry your skin, so that is when you need a good skin lotion to rehydrate your skin.  This remedy is the best one for taking that sting out, soothing the skin, and even reducing the swelling on a bad burn.  And black tea can be found in any grocery or convenience store.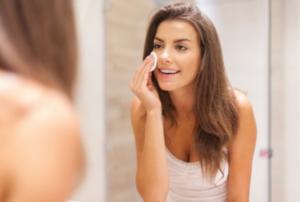 In general, any time of the year is a great time to come for a visit – when you are prepared.  Each season has its own unique aspects to prepare for, and each season has its own beauty.  And when you are properly prepared, you can enjoy the magnificence of each.
Contact Us for more tips on how to really enjoy your visit to Costa Rica.