Poker is fun, poker is exciting, poker is psychologically demanding, with poker you stand a good chance of becoming a millionaire overnight. Yes, we all know these. But did you also know that beyond the money-making potentials and excitements that come with this game, poker does have some health benefits and health implications too?
Oh, you didn't know?
TIP: Get our latest content by joining our newsletter. Don't miss out on news that matter in Costa Rica. Click here.
Of course, it does.
While it is such a good game for the brain, the psychological stress it puts players through means that it also has some health drawbacks too. Quite sadly, not too many of us know much about the health benefits and risks of poker.
And as much as we love to try our lucks at popular poker games like Poker DominoQQ, Texas Hold'em; Omaha Hi; 7-Card Stud; 2-7 Triple Draw; and 5-Card, don't you think it's also important for us to understand how this hobby of ours relate with our health?
If you agree with that sentiment, then you should check out the next frame for details of how your health and poker are related.
The Health benefits
Hardly will you find anyone who has spent time at the tables telling you that poker hasn't improved their mental health in one way or another. Poker is such an intensely complex game, one that requires your mind to be at its very best at all times. It demands focus, mathematical computation, psychological analysis, and complete adaptation to opponent tendencies. As such, poker stimulates the brain and enhances the mind. It imbibes in you the ability to read minds, the confidence to call other people's bluff, and also improves your brain power through its highly demanding mathematical approach.
According to mind coach Dr. Stephen Simpson, who has worked with poker greats like Chris Moorman and Liv Boeree, poker helps to create new neurological pathways in the brain. As these pathways are continually strengthened and reinforced, a protective layer  "Myelin" is formed through the process of myelination. Once the process of myelination begins in the brain, the brain cells transmit information faster than usual and deal with more complex brain processes in a much more adaptive manner.
Little wonder why we see many well-practiced poker players around us today exhibiting some unique traits such as patience, focus, discipline, concentration, and emotional control, all of which are skills that are essential to positive life changes.
A study backs this up
In a certain study conducted by a major gaming company, six poker players of various experience levels were hooked up to an EEG. These players had their brain signals monitored and measured at different moments of the game, such as when the flop fell, or when faced with a raise. The results of this study revealed that expert players were more engaged in logical information processing, and were less emotionally reactive to bad beats and ups and downs of poker than the beginners.
From a neurological perspective, expert players were less stressed out by the different poker scenarios than the beginners.
Consequently, if a player can carry this over as a general skill, this emotional control may influence other areas of their life, and could even serve to combat the ultimate destroyer of heath – stress.
The psychological and physical stress
For all the mental health benefits that come with poker gambling, poker also stresses the mind. Due to the fact that poker players always enter the game with their money on the line, they tend to approach the game with the feeling of "I want to win money," or "I mustn't lose too much," thereby putting a great level of pressure on themselves. While this is obviously a good mindset, it thus leaves you on edge and threatens to wear out your subconscious, especially when Lady Luck has refused to smile on you.
Oh, and of course, poker stresses the body too and might even cause you some serious physical health issues, such as poor diet, bad posture, less sleep, and too much screen time.
Facts to back up the impact of poker on your physical health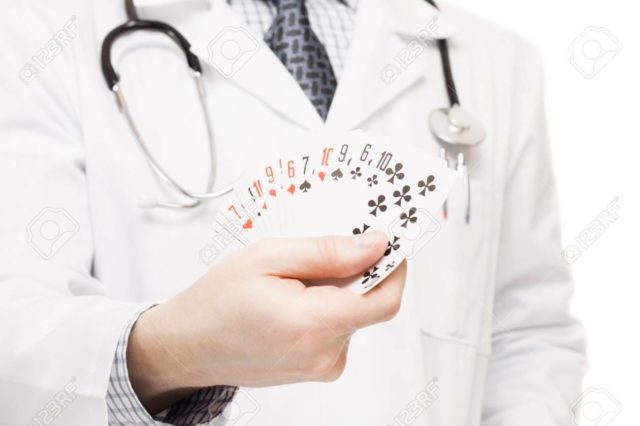 It is no news that serious poker players often grind out long sessions at their computers, perhaps 7 – 2 hours a day, five days a week, or even much more. These are the facts!
Now, as a result of this level of dedication, many players find themselves sitting for too long, skipping their diets, and taking in too much radiation from their screens into their eyes.
Sitting for long periods: An act that often leads to bad posture
Too much screen time: An act that can ravage the gut biome for several reasons, including being too sedentary, depression, and electromagnetic radiation to our stomach bacteria.
Skipping diets: An act that might affect your body shape, immune system, and general well-being
Less sleep time: An act that can affect your general wellness.