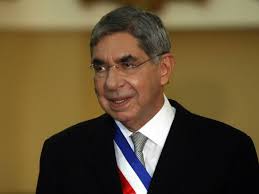 Óscar Arias Sánchez is a Costa Rican lawyer, economist, political scientist, and businessman. Former President of Costa Rica for two terms from 1986-1990 and 2006-2010, and laureate of the 1987 Nobel Peace Prize.
Biography.
Óscar Arias was born on September 13, 1940 in Heredia. He grew up in a wealthy coffee growing family of Heredian origin, and with strong political roots. His parents were Juan Rafael Arias Trejos (lawyer) and Lylliam Sánchez Cortés.
His father served as a deputy and ran as a candidate for the Second Vice Presidency of the Republic for the 1978 elections, in the formula of the National Liberation Party at that time, alongside Luis Alberto Monge Álvarez.
His paternal grandfather, Juan Rafael Arias Bonilla, was deputy for the Province of Heredia several times and held the post of Secretary of the Treasury during the presidential administration of Alfredo González Flores between 1914 and 1917.
He was educated at Colegio Saint Francis, in the Costa Rican capital. First, he was inclined to pursue a medical career at Harvard University. However, after a few years, he decided to return to his native country, where he entered the University of Costa Rica.
While pursuing his higher education, he joined the ranks of the National Liberation Party, with a social democratic ideology. When he came of age, and since then, he quickly escalated political positions. In mid-1967 he moved to the University of Essex, where he obtained his doctorate in Political Science.
In 1970, after his return to the country, then-President José Figueres Ferrer appointed him financial advisor at the Presidential House, and in December of that year appointed him Vice President of the Central Bank.
In 1971, he was nominated to serve as director of the National Planning Office, which aimed to prepare the national budget and program public investment. During his term, he promoted a new institutional law, and decided to lay the foundations for a National Development Plan.
In 1974, the new government of Daniel Oduber Quirós kept him in office, but now with the rank of Minister of National Planning and Economic Policy. He resigned in 1977 from the position that he had held for six years, to participate in the next elections, as a candidate for deputy of the Legislative Assembly.
In the general elections of 1978, Arias was a candidate for deputy of the Legislative Assembly representing his native province. Finally, he got the seat. A year later he was elected secretary general of his party.
On August 11, 2009, it is reported that President Arias contracted AH1N1 influenza, despite this, he recovered satisfactorily.
Arias Foundation for Peace.
The economic content of the Nobel Peace Prize that he received in 1987, was destined entirely by Arias to establish the Arias Foundation for Peace and Human Progress.
Three programs were established under the patronage of the Foundation:
The Center for Human Progress, to promote equal opportunities for women in all sectors of Central American society;
The Center for Organized Participation, to promote change in philanthropic orientation in Latin America;
The Center for Peace and Reconciliation, which works towards demilitarization and conflict resolution in the developing world.
From these bases, Óscar Arias has continued his quest to achieve global peace and human security. It recently launched an initiative that seeks the establishment of an International Code of Conduct for the Transfer and Sales of Arms.