Marriott International was founded in 1993 when Marriott Corporatión was divided into 2 companies: Marriott International and Host Marriott Corporation. In 1995, Marriott International became part of the capital of Ritz-Carlton with 49% of it, acquiring 99% in 1998. Between 2002 and 2003, the company carried out a large restructuring.
In November 2015, it carried out the purchase of the Starwood chain for US$ 12,000 million. Having completed this purchase it now has a portfolio of 5,700 hotels around the world and 1.1 million rooms, making it the largest hotel chain in the world.
TIP: Get our latest content by joining our newsletter. Don't miss out on news that matter in Costa Rica. Click here.
The largest and best hotel chain in the World
"We are delighted to bring the AC brand to Costa Rica, in an area as vibrant and full of urban culture as Avenida Escazú, the style, and functional design, and attention to detail that we have in all Marriott International hotels make the hotel an ideal place for travelers looking to explore what San José has to offer", commented Ismael Morales, General Manager of the Escazú AC Hotel by Marriott.
San José is the main city in Costa Rica where tourism, business and, of course, pleasure come together with great success. That is why, and thinking about the comfort of the tourists who arrive here, AC brings to them a true jewel in the world of hospitality.
At the beginning of this year, the city opened its convention center and the opening of new routes to international airports has increased the air connectivity of this destination.
Costa Rica is known worldwide for its natural beauty with a wide variety of national parks and green areas where you can see the most beautiful landscapes in the world, nature conservation and protected areas that cover more than 25% of the country's territory, home of the most beautiful sites and 5% of the world's natural biodiversity.
That is why, taking care of each detail in terms of native decoration, AC Marriott based on the belief that intentional design improves life, discarding the unnecessary in order to provide guests with moments of true beauty and comfort.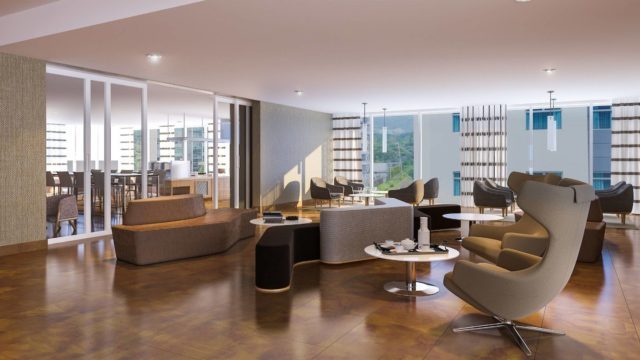 Marriott Escazú offers 126 new rooms fully equipped for the comfort of its clients, in San José city. They are comfortably designed rooms and public spaces with elegant furniture and intuitive technology features, such as media room and library, with 4 suites, 5 meeting rooms with a total of 2,142 square feet of event spaces for this cosmopolitan city, surrounded by trendy shops and stores. The hotel is located in an exclusive area of the city; Avenida Escazú.
This luxury hotel has classic modern designs with European touches and Spanish roots, born of the distinctive vision of the renowned hotelier Antonio Catalán, who founded the brand in 1998 and, thus, became one of the most respected hotel brands in Spain. After its success in Europe, a joint venture was formed with Marriott International in 2011, which launched AC Hotels by Marriott worldwide in France, Denmark, The United States, Mexico and, now, Costa Rica. The new AC Hotel Marriott Escazú is the 3rd hotel of the brand in Central America.
Its AC Kitchen restaurant brings a true gastronomic proposal with dishes inspired by European cuisine. The lobby area and AC Lounge with environments totally designed for the comfort of its customers are ideal for socializing with friends and colleagues. The hotel also has a Fitness Center, spa and gym, free wifi, a pet-friendly policy, and a free shuttle service to and from the airport. It is the perfect place for locals or visitors, where they can get a job done with style or to enjoy handmade cocktails.
Marriott International, Inc. is headquartered in Bethesda, Maryland. It has more than 6,700 properties with 30 leading hotel brands in 130 countries and territories. Marriot and its franchises in hotels with licenses of resorts have a wide range in each of its architectures. The company also operates the award-winning loyalty programs: Marriott Rewards, which includes The Ritz-Carlton Rewards program and Starwood Preferred Guest.