When it comes to hauling bulk materials, such as chemicals, oil, asphalt, or industrial materials, including sand and concrete, it will likely require a tanker trailer. These types of trailers are commonly used to haul either liquid or dry materials. The following article will explain everything there is to know about tanker trailers.
Different Types of Trailers
TIP: Get our latest content by joining our newsletter. Don't miss out on news that matter in Costa Rica. Click here.
Asphalt Tanker
There is no such thing as a general-purpose tanker. An Asphalt tanker is designed and manufactured to transport liquid asphalt from the oil refinery to the asphalt storage depot or to the plant. These tankers are designed to withstand intense heat, which is reinforced and ideal for transporting highly corrosive materials.
They are designed to haul at least 7,000 gallons and can withstand up to 365 degrees F. They'll typically feature a large heat exchange coil surface, along with at least 4 inches of fiberglass for installation to maintain optimum operating temperature. These types of tankers will often be equipped with internal vents, along with an overflow system, which prevents overfilling and condensing vapors from collecting in the insulation. They'll also feature a safety suction system, which prevents the liquid level from dropping below the heating coil. These heavy-duty tankers are typically constructed from aluminum
Stainless Tanker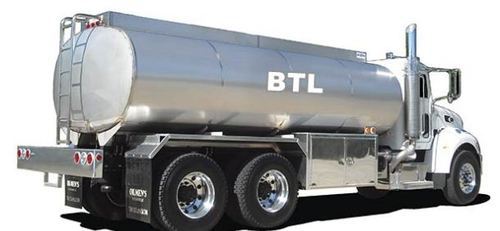 Stainless steel tankers are probably the 2nd most widely used type of tanker, which features a customizable, simplistic design. There commonly used to haul a variety of different materials, which include, petroleum, hot products, hazardous chemicals, dry bulk, along with food-grade products. They are typically equipped to haul at least 6,000 gallons. They are designed to withstand temperatures of 212 degrees F and equipped with standard insulation.
The tankers feature a stainless steel lid, dust cover, along with stainless steel sanitary deck around the manhole. In order to be able to haul 2,000 gallons, the tanker features a 23,000 lb suspension, which features integrated axles, along with an automatic dump valve. The shell itself is made of stainless steel and features a two-piece barrel with one circumferential weld. It also features seal provisions on all openings, a ventilated manhole cover, which is equipped with stainless steel valves, and an aluminum dust cover.
Petroleum Tanker
If you've ever traveled on the highway, then you more than likely are familiar with Petroleum Tankers, which are used to transport large volumes of diesel, petrol, and oil. Considering, the wide variety of types of loads these tankers deliver, the models tend to differ. The design of the internal structure can vary, which depends on if you're transporting liquid or gas.
These types of tankers typically have a capacity of at least 9,000 gallons, which are made using aluminum and feature a bright polished finish. The tankers are also equipped with an aluminum drain pocket and feature an emergency valve, along with an aluminum interlock bar mounted over the curbside discharge area and an interlock valve.
Pneumatic Tanker
A Pneumatic Tanker is used for transporting cement, which features an especially designed chassis, along with a pneumatic piping system. These types of tankers are specially made for the safe transportation of bulk cement, which are commonly used at construction sites.
Best Uses for Tank Trailers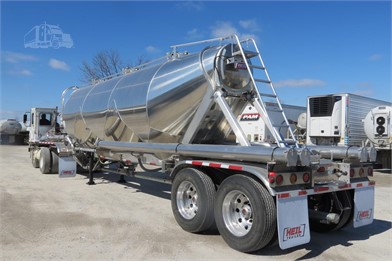 Tankers are used to haul a wide variety of different materials, which include fuel, hazardous chemicals, raw materials, such as sand and asphalt. They are also food grade tankers, which are used to carry water, milk, and juice, along with dry bunk variations, such as, sugar, flour, and salt. Tankers are also used to haul chemicals and acids, which include industrial chemicals and corrosive agents. They can also be used to haul dry bulk, such as sand, fertilizer, and asphalt.
Temperature Control
Depending on what the tanker is carrying, it may require some sort of temperature control system. Oftentimes, tankers used to transport chemicals will require a temperature-controlled environment. Many substances are prone to solidify once they reach cooler temperatures, which is a challenge that many chemical transport shippers face. The heat transfer ensures that the substances maintain the temperature. Other tankers may feature cooling systems when required to haul food grade products.
Pumps and Compressors
When it comes to unloading the tank, you usually aren't able to simply hook up a hose and hope gravity pushes it out. Most tankers will either feature pumps, blowers, or compressors, which may be needed to pump out the load.
Conclusion
Overall, if you're considering transporting liquids or small materials, you may want to consider utilizing a tanker trailer. These heavy duty trailers are designed to carry heavy loads, which are used regularly by manufacturing companies, contractors, and homebuilders.