Selected as one Costa Rica's premier homes currently on the market, the Atrium House is only 5 minutes from San Rafael de Heredia. This private mountain estate with stunning panoramic city and mountain views is perfectly located minutes from the airport and San Jose.
This property is featured on Sotheby's International Reality and was selected by TCRN's Real Estate Team as one of Costa Rica's Best Luxury Properties.
San Rafael, Heredia offers an authentic blend of Costa Rican history and local lifestyle. Farmer markets and close proximity to modern super markets as well metropolitan San Jose gives you your choice of relaxed rural living or big city life whenever you choose.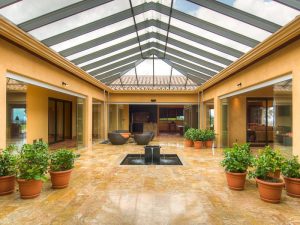 Floors:
 
1
Lot:
 
10,440 m2
Construction:
 
1,000 m2
Garage:
 
Multiple
Bedrooms
 
6
Bathrooms
 
6.5
Sale Price:
 
$2,450,000
Property Type:
 
Luxury Property
 
 
[nggallery id=54]
(Click to enlarge images)
The Atrium House, at a little over 1200 meter in elevation, creates the perfect climate condition with warm breezy days and cool evening.
The sophisticated atrium design creates a home of rare elegant tranquility that is ideal for a family lifestyle and a stunning showpiece for large gatherings and parties.
The one-level main house is perched on the mountain side and is a spacious 5-bedroom that provides amazing views from every room. The design provides an abundance of space, light and privacy, as well unparalleled comfort.
The atrium itself is a lavish 20-foot by 40-foot space of rich travertine marble, centered on a dramatic courtyard fountain sculpted from pure black granite. The house is named after this magnificent feature that delivers a first impression second to none.
A custom engineered steel support structure and high tech self-cleaning and solar-E glass cover the atrium. The design of this incredible space allows it to be totally open to the rest of the house or closed off by a frameless European sliding glass wall system that separates the central area of the atrium from the private and social areas.
The open floor plan takes full advantage of natural light making the experience of moving through the house truly special. Furniture was custom designed, with extensive use of colorful fabrics. Focal pieces are made from the beautiful Costa Rican local hardwoods.
[nggallery id=53]
(Click to enlarge images)
Chefs will love the professional kitchen, pantry and top of the line cabinetry and appliances. The open and flowing space of the kitchen and connecting areas provides a perfect blend of functionality and beauty. The marble and granite built into the kitchen design delivers a clean, rich working space.
The large infinity pool is at once a lap pool and dramatic reflecting pool creating a truly relaxing space with views that leave you speechless.. A small drainage slot around the pool perimeter balances the water level to that of the surrounding terrace, for incredible effect. A concealed machine room contains both an electric heat transfer pump for cost effective heating and a gas heater for speed.
One of the great appeals of Atrium House is its serene rural setting on the one hand and proximity to services and amenities on the other. Nearby San Rafael offers a rich blend of history and local flavors. The farmers market held every Sunday morning is a particular joy. Las Flores and Auto Mercado are just 10 minutes away and within 20 to 30 minutes you can access everything the city has to offer.
For more information on The Atrium House and available luxury real estate in Costa Rica contact us on the form below.
[gravityform id="1″]
Category: Costa Rica >> Costa Rica Real Estate >> Luxury Real Estate
The Costa Rica News (TCRN)
San Jose Costa Rica