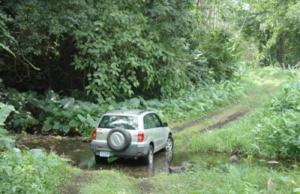 The Costa Rica News (TCRN) – With summer just around the corner, travel is on the forefront of many people's minds. Costa Rica's varied landscape – of volcanoes, mountains and beaches – lends itself toward every type of experience.
One of the best ways to dive into this multifaceted country is a Costa Rica car rental and taking a road trip. Driving through the hilly highlands or coastal lowlands can involve adventurous encounters with parts of Costa Rica that are sometimes missed. You can stop at small fruit stands or take side roads that lead to deserted beaches. Driving is, however, not for everyone. Bad road conditions and poor signage can make the experience difficult.
TIP: Get updates on upcoming Costa Rican Retreats & Events by joining our newsletter. Don't miss out on what's happening around you! Click here.
Those travelers thinking about taking a road trip should read over the following list, which compiles the top ten most important things to know about driving in Costa Rica.
1. Costa Rica's roads can be curvy, potholed and slow going, especially in the mountains.
2. The driving time between distances can be long due to the poor road system.
3. Road signs can be lacking or non-existent.
4. Rent a car with 4-wheel drive.
5. Use your GPS religiously.
6. Take time to stop and take pictures, eat at farmer's markets, and explore side roads.
7. Don't speed – there are cameras on highways that take photos of speeding cars and issue tickets.
8. You need a valid driver's license and can only rent a car for up to 90 days.
9. Insurance (purchased along with the rental car) is mandatory.
10. Gasoline is more expensive than in the U.S. A gallon (3.8 liters) usually costs around $6.
A road trip through Costa Rica is truly a one-of-a-kind experience.
There are, however, many things to think about before hopping behind the wheel. With this in mind, Anywhere Costa Rica created a comprehensive driving and rental guide.
There are also several types of cars that you can rent—you can explore Costa Rica car rental options and compare prices from major rental companies here.
The full guide includes a short HD film on driving in Costa Rica. The film gives you a front-seat perspective on the types of roads you'll travel and sort the scenery you'll pass while cruising across the country.
The Costa Rica News (TCRN)
San Jose Costa Rica